BD polishing wheel for glass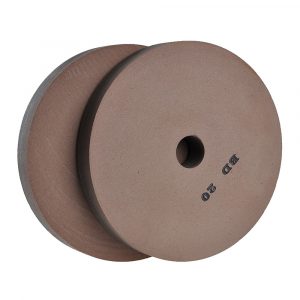 Short Description:
BD polishing wheel is a type of polishing tool produced from the reaction of polymer materials and a sharp combination of alumina and silicon carbide. Compared to the 10S polishing wheel, this tool has better features like its sharpness and brightness during glass processing. It is also very elastic, highly durable, and wear-resistant, plus it's very strong. This is due to its high molecular material. Similar to the metal bond diamond wheel and resin bond diamond wheel, this tool is applied for common edge processing work.
Detailed Description of BD Polishing Wheel
Product Specification:
There is a popular specification for BD polishing wheels available in the market. Sizes and shapes customizations can be done according to customers' needs and requirements.
| | | |
| --- | --- | --- |
| D (mm) | T (mm) | H (mm) customized |
| 100 | 22 | 15 |
| 100 | 22 | 20 |
| 100 | 22 | 25 |
| 100 | 22 | 30 |
| 150 | 22 | 15 |
| 150 | 22 | 20 |
| 150 | 22 | 25 |
| 150 | 22 | 30 |
| 150 | 22 | 35 |
| 200 | 22 | 15 |
| 200 | 22 | 20 |
Features of BD Polishing Wheel
This polishing wheel has its own super cutting ability feature due to its metal compounds. This tool is very elastic that you can ensure full contact on the wheels and keep the whole glass edge while polishing it thoroughly. And because of that, there are no scraps left on the glass surface. Its elasticity feature lessens pressure and prevents burning in the material. Here's a more concrete description of its features.
This tool has very sharp cutting and polishing features due to the alumina and silicon carbide combination.
It does not wear out easily and can maintain its shape features in the long run.
Highly elastic and high polishing proficiency feature which creates excellent surface finish.
It can also be applied for inner hole polishing.
It has the ability to remove scratches and marks on the glass material.
With its rigidity feature, this tool can prevent breakages and cracks for possible machine vibrations and operation errors.
Its fine powder particle is the key to creating an excellent bright satin finish.
Application of BD Polishing Wheel
A wide range of applications for BD polishing wheels is very evident in various fields. Here are some of its applications.
It is a high-quality polishing tool used for round glass tables, table glass, bathroom glass, water watch glass, and other types of glass products.
It can be applied to different types of machinery like edging machines, double edging machines, beveling shapes for beveling machines, etc.
This polishing wheel is definitely worth spending for especially for glass fine polishing of furniture glass, decoration glass, and art glassworks.
Applicable Machine for BD Polishing Wheel
For the BD polishing wheel, here are some suitable machines that you can apply.
CNC machining center and round edge machine
Round edge machine, edging machines, and CNC center machines.
This tool can be matched to OG, 2OG, 3OG, 45 specifications.
Applying it for a combination grinding wheel is a much better process like the internal diamond grinding wheel, continuous grinding wheel, resin diamond grinding wheel, and many more.
How to use BD Polishing Wheel
Before using this tool, you have to follow some of these guides so you can ensure safety and success during and after working.
Check the wheel if it is intact or not. This is very important to not miss any pre-damages before the process. Also, check if there are visible cracks or passivation.
The next thing to do is to install the wheel very carefully and in its rightful position. The installation process should be matched with the coarse polishing process, medium polishing, and fine polishing procedures.
Use a cooling lubricant such as water during the grinding process. This is a great way of reducing any heat generated and will keep the tool working efficiently. This is also one way of prolonging the service life of the tool.
Most importantly, you have to choose the appropriate operation tool speed to prevent any damage to your polishing wheel. High speed might result in cracks or breakages. Choosing the right speed will also secure the safety of the operator while working.
More Customized Polishing Wheels are available, contact us.
Error: Contact form not found.