Brazed Diamond Grinding Disc
The brazed diamond grinding disc is designed for complex surface machining.  It's characterized by its high processing efficiency rate and unique production process. Its production involves melting and flowing a specific kind of metal with a lower melting point when compared to the ones adjoining. The product is used in the manufacturing of extraordinary cutting wheels and abrasive discs with more coherent functions. It also ensures rapid service by grinding at a fast rate with a longer lifespan than other wheels.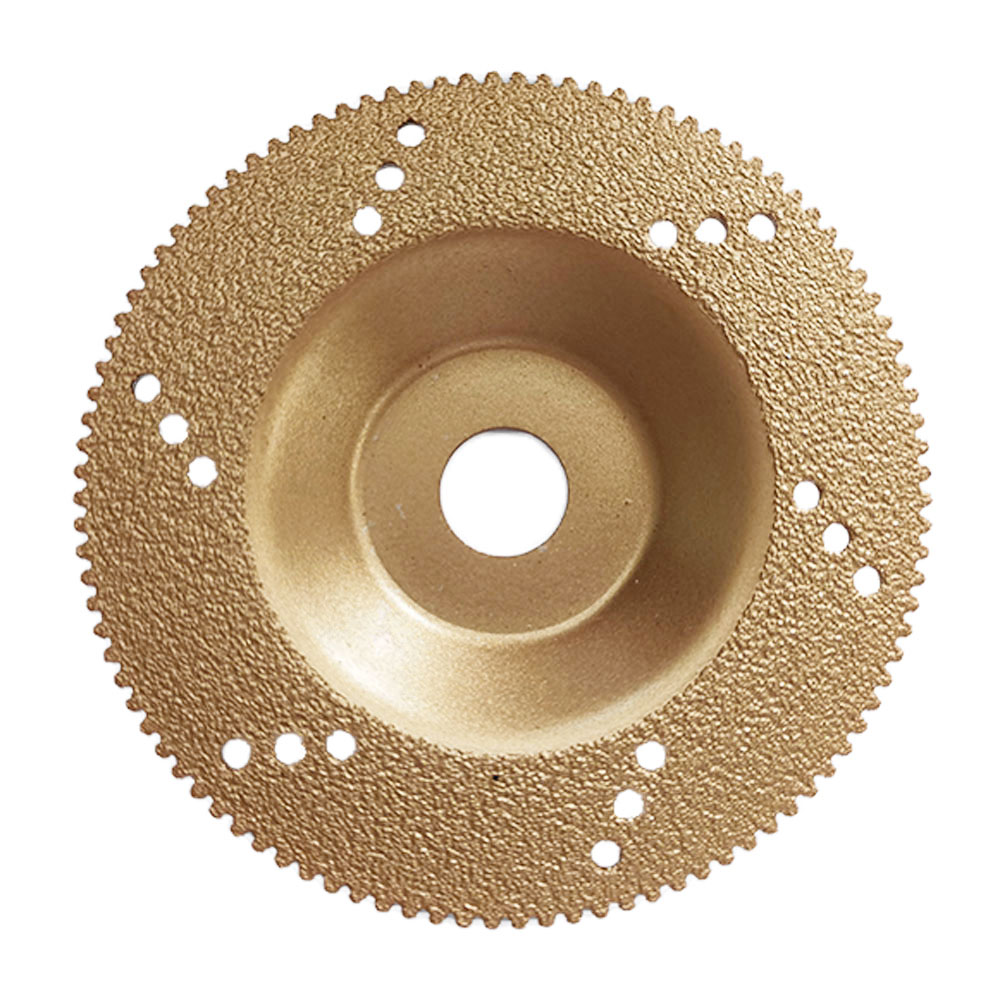 The brazed bond diamond discs and wheels are ideal for materials such as blended materials, vitrified brick metal castings, concrete, ceramic, glass, marble, and other wider range of processing fields. These tools are commonly used by several industries because of their compactness, wear resistance, and metallurgical properties.

Important Features
High-quality wheel perfect for metal cutting and lapidary
Resistant to noise with premium vacuum brazing technique
Solid with exposed diamond grits for easy cutting
Great for dry conditions ( need no water for lubrication)
Excellent durability and perfect with chamfering and shaping stone and masonry.
Detailed Description
The brazed diamond grinding disc is made adhering to some basic principles of vacuum brazing, particularly for angle grinding and polishing. It is used for marble, granite, quartz stone, artificial stone, hard plastics, ductile iron, glass, ceramics, recast iron, iron plate, stainless steel, jade, wood, auto parts, concrete, electric parts, and other such materials.
Several experiments have shown that the tool has a long work-life without compromising the quality of its performance. It can easily be screwed to every kind of handheld machinery due to its 16mm central hole.
The brazed diamond grinding disc is the go-to tool for accidental events such as fire, earthquakes, crashes, etc. Besides, it's claimed to be better in performance when compared to the sintered wheels.
Benefits of Brazed Diamond Grinding Discs
The following are some of the benefits brazed diamond grinding discs can offer:
Higher cutting efficiency: Due to the firm grazing of diamonds to the center of the wheel, the tool features higher cutting efficiency. According to the client's demand, diamond grit can be made coarse, middle, or fine. In addition, it's a superior quality grinding wheel perfect for concrete floors.
Strong impact and high-pressure resistance: The tool can't deform or break due to its strong impact and high-pressure resistance.
Flawless finish: The wheel provides a delicate finish to any material. It is highly efficient in smoothening, flattening, and tidying the surfaces.
Fast action and quick result: It's great for tasks because of its capacity to work fast and present quick results without wasting time on ground and polished finish. Besides, it's sturdy and suitable with any modern-day grinding machines
Great durability: Due to the coarse-grained diamond crystals of the wheel, it offers great durability.
Eco-friendly: The wheel will buff material without causing environmental pollution (dust).
More other customized cutting wheels are available, contact us.
Error: Contact form not found.