Drilling and countering glass holes using diamond drill bits is a routine task. Hole processing with a Diamond Drill Bit may be done on a variety of materials, including ceramics, porcelain, stones, limestone, gemstones, marble, granite, slate, shell, and bone.
Diamond Drill Bits Types:
Diamond Drill Bit, as you can see, has the same functionality as agate drilling, also known as core extraction. Diamond drill bits come with a variety of shanks, including straight, taper, internal, and external threaded shanks.
Diamond Section default size:
You may check numerous specifications for thin wall diamond drill bits or glass drill bits on the market. The standard diamond-section wall thickness is 1 mm, with a 10 mm height surrounding it.
Dos and Don't
Thin Wall Sintered Glass, stones, ceramic, porcelain, tiles, pottery, plates, shell, antler, bones, fossils, and hardwoods are all good candidates for diamond drill bits. On metal, softwood, plaster, or soft plastics, a diamond drill bit is not advised. Because these materials are too soft for diamond drill bits, they may jam the drill. Because diamond and sapphire are both very hard materials, drilling them requires patience. When drilling a hole in it, you may require several drill bits.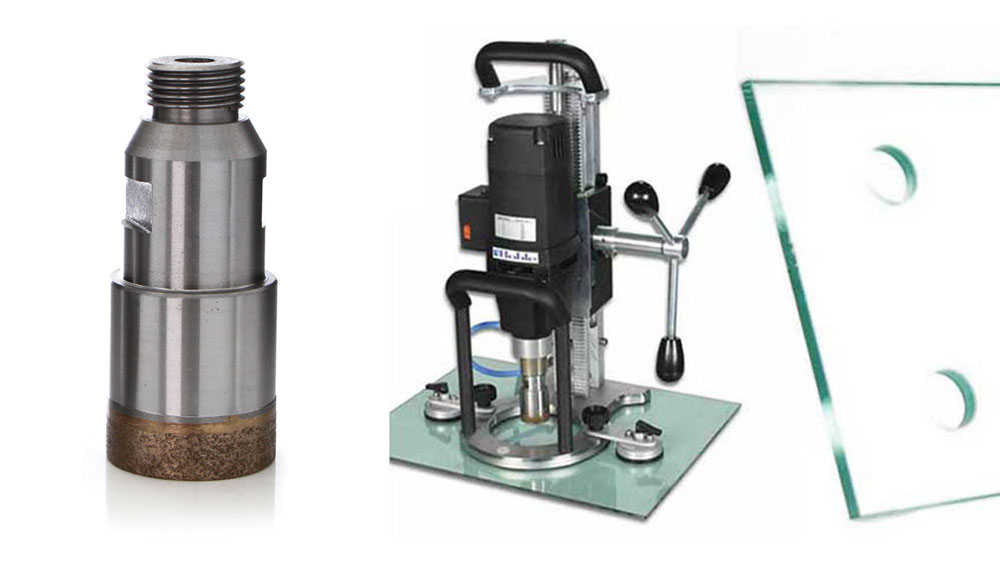 Features of Diamond Drill Bits:
Cool Water Is Required. The glass perforations do not shatter due to low heat production.
Mechanism with great accuracy. This increases the efficiency and effectiveness of the drilling operation.
Excellent clarity Drilling through the hardest materials, such as diamond and sapphire, will be simple.
The sensitivity of the features is reduced. Low noise, no vibrations, and no broken edge are some of the features that these glass drill bits have embraced.
Extremely durable.
High-efficiency and long-lasting performance
Diamond Drill Bits Specifications:
Item
Shank Type
Head Diameter
Wall Thickness
Diamond Height
Total Length
Diamond Drill Bits
Straight Shank
5 mm – 100mm inner
1 mm
10 mm
55 mm/65 mm/75 mm/95 mm
Tape Shank
Threaded Shank
Countersink
– –
– –
– –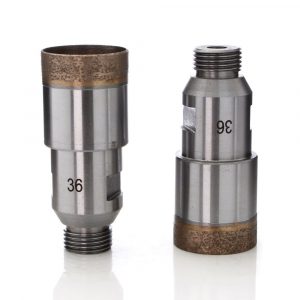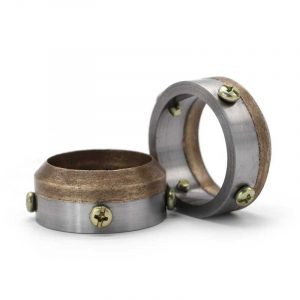 Things to Know about Sintered Thin Wall Diamond Core Drill Bit
1. Diamond Drill Bits Operation Tips and Installations Process
Before you can do any glass hole processing using sintered thin wall diamond drill bit, here are some tips you should remember during the installation process.
Drill a crescent form after tilting the instrument 45 degrees.
Second, in the water, drill it for 90 degrees.
Finally, drill a smooth and flawless hole to complete the operation.
Check the diamond drill bit once it has been installed to see whether there are any beating marks. After that, you resume regular operations. Always remember to drill smoothly. Curve the spud and avoid exerting lateral pressure. You must supply adequate water specialized for lubricating and cooling to minimize wear and coating goods. The dry drilling method may have a significant influence on its lifespan. Additionally, the operator must wear safety protection equipment during the whole work process to guarantee safe operation
2. Diamond Drill Bits Application:
A diamond drill bit is often used to drill holes in a variety of hard materials, including glass (sea glass, beach glass, fused glass, sheet glass), stones (gemstones, rock, pebbles, minerals), ceramic, porcelain, tiles, glazed pottery, plates, shell antler, bone, fossils, and hardwoods.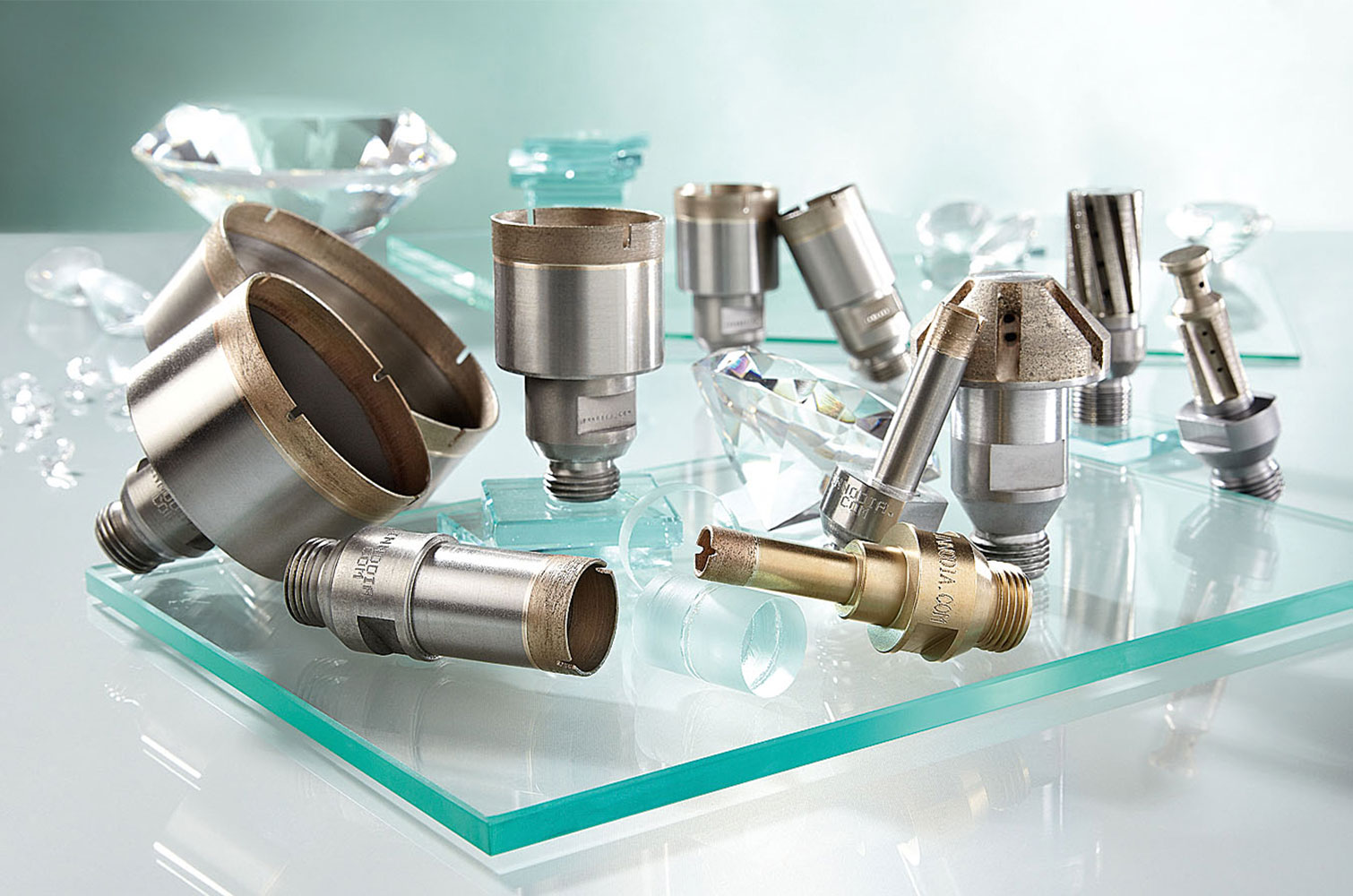 Diamond drill bits with sintered thin walls are those that are fused to the matrix at very high temperatures. Because it contains numerous layers of diamond, when you dress or clean it with aluminum oxide, the life of your drill bit or burr will be reduced because layers of diamonds will be revealed. This is why sintered diamond drill bits are noted for their long service life and durability. Because it includes numerous layers of diamonds that may endure a long time, it is also more costly than coated diamond drill bits or electroplated diamond drill bits.
3. How do you sharpen Diamond Drill Bits?
After each usage, dress and sharpen your diamond drill bit using an aluminum oxide stone. For the following task procedure, a new and fresh layer of diamonds is exposed.
3. Life Span of Diamond Drill Bits and Required Number of Bits per Material
When it comes to Diamond Drill Bits, there are several aspects to consider, including lubrication, pressure, speed, and material density. Knowing the components of your materials initially will be beneficial. As when you're drilling a supposedly thousand-year-old piece of sea glass. It's crucial to understand where it originated from and what it's made up of.
The manufacturing of glass drill bits allows for the creation of an average of 250 holes in a single bit. The same method is used on other materials, such as China plates. In a single bit of processing, you may estimate 15 holes or more. What about a handful of pebbles? Or how about precious stones? Drilling gemstones takes longer, so you'll have to be patient with them. Pebble drilling, on the other hand, maybe fairly difficult. Flint or quartz specks may be found in pebbles. Pick stones with no white or speckled particles surrounding them for a simple drilling operation.
For the drilling process, the Mohs Mineral Hardness Scale may be used to compare different materials. This will be used as a guide when utilizing sintered thin wall diamond drill bits. Maintaining your tool's resistance and efficiency is critical to its longevity. Make sure your drill bit has the longest possible life. To prevent cracking your material, use little to no pressure. When drilling with diamond drill bits, try to utilize the slowest speed possible. Finally, use enough water to maintain your thin wall diamond drill bits and materials at high temperatures.
4. Diamond Drill Bits on Glass, Stone, and Ceramic
In the drilling procedure, tools with diamond glass drill bits are also essential. To begin, you must choose which tool is ideal for your diamond drill bit. During the drilling process, the tool you use will affect your control, angle, and sensitivity. Angle drilling mechanisms are not available on drill presses or bench presses, but they may keep your material in place using a vice. You may use a Dremel drill, a flex shaft drill, a pendant drill, or any other hand-held instrument.
If you're having trouble with your drill bits skittering over the surface of your material, consider angling your drill and starting the drilling. When the first hole is drilled, drill from a vertical position. Glass, smooth stone, and pebbles may all be used in this drilling technique. Try putting a tiny piece of masking tape on the drilling area if you're having trouble with slippery surfaces like tiles or glass bottles. This will assist prevent the diamond drill bit from sliding about, but you must use the bigger drill on drill bits greater than 6 mm and not for drill bits less than 0.75 mm to 3 mm, for example.
5. Standard Speed for Diamond Drill Bits
It's critical to understand what the typical speed of your diamond drill bit should be throughout the drilling operation. Using a low-speed setting, particularly when first beginning to cut holes, can avoid any fractures or breakages, ensuring that your diamond drill bits work to their full potential.
Do you need to speed up the drilling process at any point? It's best to keep your drilling speed at the lowest level possible. However, if you're drilling a hole through the material, you can go faster. Just bear in mind that when you get closer to the material's exit hole, you'll need to slow down. This will avoid damage such as fractures and extend the life of your drill
6. Safety Measures in using Diamond Drill Bits
When utilizing diamond drill bits, there are a few things to keep in mind. Keep some of these considerations in mind to ensure the safety of everyone involved in the drilling process.
Your material may emit a burning odor as a result of the high speed and pressure. High speeds may cause the material to overheat and shatter, resulting in noticeable damage. This may cause the diamond drill bit to get dull fast, reducing the life of the diamond drill bit.
Check the temperature of your drill bit regularly. Check to see whether it's hot to the touch or simply warm. Starting with the lowest speed setting is the best way to go. You may begin slowly and gradually increase your pace as you go through the content. Excessive pressure might cause the diamonds to come apart. This is most likely due to the hardened steel shank on your diamond drill bits, which can shatter under excessive pressure.
Feel your material's surface from top to bottom. If you're still unclear about the procedure, experiment on a scrap piece of glass or a pebble to acquire a feel for the different ways. Always remember these crucial points: utilize a quicker drill speed, such as 5,000 to 7,000 RPM, when you have a smaller diameter. Set your drill to the lowest speed setting if you're working with tougher materials. Slowest speed, lowest pressure, and coolant are all important elements in keeping your drill performing at its best and preventing material damage
More customized specifications are available, contact us.
Error: Contact form not found.