A Vitrified CBN grinding wheel is the ideal choice for crankshaft grinding. Vitrified CBN Crankshaft grinding wheels are cutting-edge equipment with grinding capabilities that are mostly employed in industrial industries such as automotive, aviation, aerospace, truck, diesel, and others, particularly for the pin and bearing regrinding. Corundum or aluminum oxide grinding wheels, as well as CBN grinding wheels, may be used on crankshafts. We'll be concentrating on Vitrified CBN Crankshaft Grinding Wheel, its characteristics, uses, and extensive explanations on this product page. This crankshaft grinding wheel has the most recent advancements in abrasive grains as well as vitrified bond technology, making it a popular option for grinding.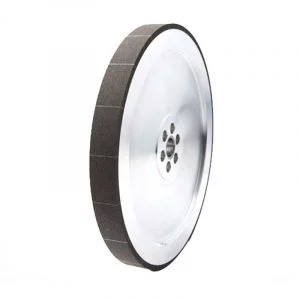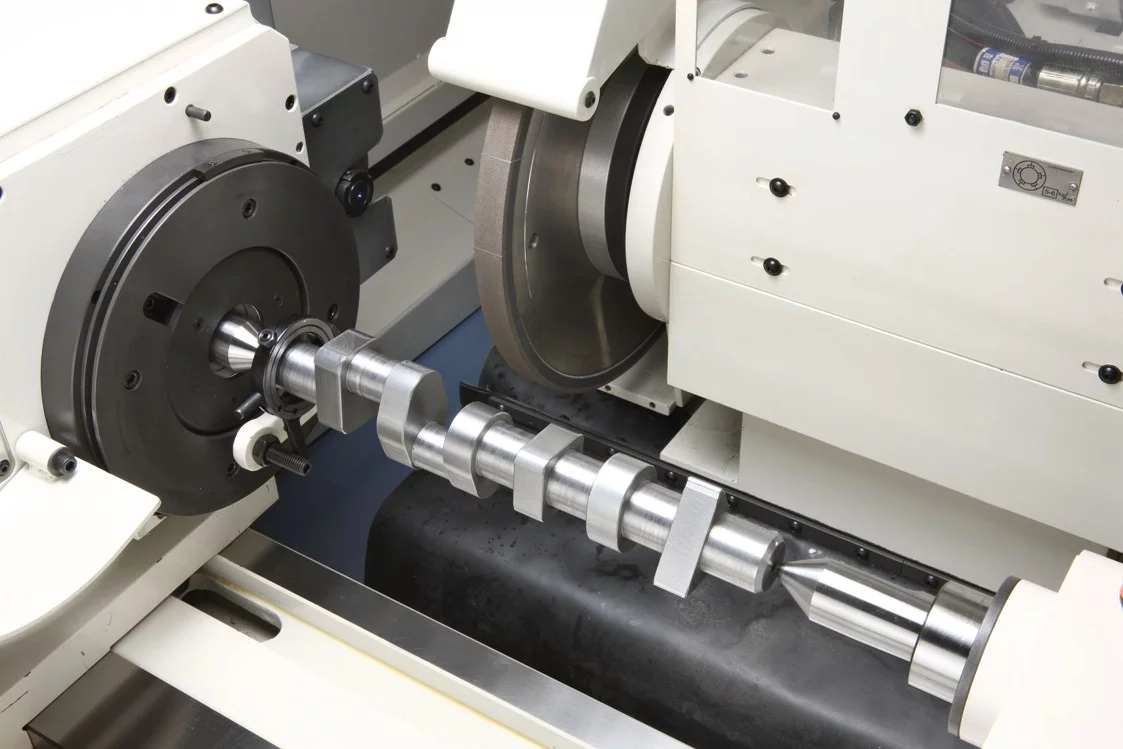 Features of Crankshaft Grinding Wheel:
Parts with a lot of functionality: The hardness of each section of the crankshaft grinding wheel is tailored to suit a specific need in the application.
Highly efficient: Designed with great precision, accuracy, and grinding efficiency in mind.
Controlling sensitivity: Its control is very sensitive, preventing burns during grinding.
Precision mechanics are used: It's ideal for high-efficiency, heavy-duty grinding of crankshaft pins and journals.
Design of a good structure: It's made to last a long time, endure wear, and keep its shape well.
Detailed Description on Vitrified CBN Crankshaft Grinding Wheel
CBN that has been vitrified The crankshaft grinding wheel is a kind of ultra-hard grinding wheel with several benefits and uses. It is extremely notable for reducing grinding burns in the crankshaft shoulder, which is critical.
Product Specification:
Automotive, motorcycles, diesel, fuel, and a variety of other industries employ Vitrified CBN crankshaft grinding wheels. Cast iron, carbon steel, alloy steel, bearing steel, and other materials may be utilized for this tool. This crankshaft grinding wheel is outfitted with some high-precision CNC crankshaft grinding machines that are ideal for heavy grinding, pin grinding, and journal grinding.
A common product specification for a crankshaft grinding wheel on the market is as follows. Examine the model's measurements and sizes. The average wheel speed is between 80 and 120 m/s. Depending on the client's requirement, designs may also be changed.
Model
D (mm)
T (mm)
H (mm)
X (mm)
1A1
500

22

19.5

20
203
5 8 10
1A1
203
5 8 10
1A1
203
5 8 10
1A1
600

19.8

20.5

35
132
5 8 10
1A1
132
5 8 10
1A1
132
5 8 10
1A1
650

43.5

44.5

50.5

40.5
132
5 8 10
1A1
132
5 8 10
1A1
132
5 8 10
1A1
132
5 8 10
Comparison of parameters between CBN wheel and corundum grinding wheel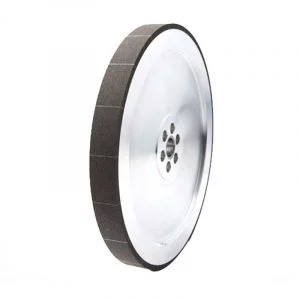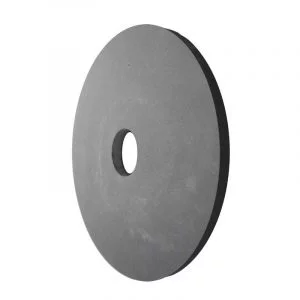 | | | |
| --- | --- | --- |
| | Corundum Grinding Wheel | CBN Grinding Wheel |
| Workpiece life | 20000 pieces | 100000 pieces |
| Dressing | 10 pieces | 300 pieces |
| dressing time | 1 min | 4 min |
| Linear speed | 45m / s | 90m / s |
| RPM | 1200 rpm | 2500 rpm |
The case of Vitrified CBN Grinding Wheel for Journal (Diesel engine)
Application Parameters
Workpiece
Truck crankshaft:
End face ø90.4mm/Journal outer circle ø74mm
 
Material
42CrMoA, HRC 52-58
Machine
NAXOS UNION
Grinding parts
Journal end face, rounded corners, and outer circles
Cooling fluid
Oil
Grinding way
Cut into the mill
Grinding wheel
1VG1L1 650- -39.6- -6- -3.5 NB151
Dressing wheel
CNC electroplating dresser roller SG 71P-150-1.2
Grinding parameters
Linear speed Vc=95m/s
Grinding allowance:
outer circle ae = ø1.2mm, end face ae = ø0.5mm
Dressing parameters
Linear speed VR=85m/s
Dressing quantity aed=15*2+ 1 * 2 um
Dressing speed ratio qd= + 0.89
Grinding performance
Maximum material removal rate Q'wmax = 94.7mm³/mms
Grinding time TG = 10 min (40% efficiency improvement)
Dressing frequency
mT=210 journal/ Dressing(50%life improvement)
 Common Shapes of crankshaft grinding wheels:
The form of the crankshaft grinding wheel is critical for optimum fit, clearance, and face width when grinding. The following are some of the most frequent shapes for crankshaft grinding wheels:
Hub
Straight
Recessed 1 side
Tapered
Recessed 2 sides
Main Parts of the crankshaft to grind and regrind:
Main Bearing
Rod Journals/ Crankpin Journals
Flywheel Flange End
 Application of Vitrified CBN Crankshaft grinding wheels
The CBN abrasive in the Vitrified CBN crankshaft grinding wheel has good heat stability and delivers outstanding performance in super high grinding to treat crankshafts. The following are some examples of Vitrified CBN crankshaft grinding wheels in different sectors and businesses.
Grinding of the crankshaft. AMC Barco machines are their specialty.
Precision Machining and Automotive Engine for autos, tractors, and vehicles.
Hydraulic tappets, glib, machine tool components, bearings, and cutting tools have all been processed with it.
High-speed grinding is another use for it. This is why the bond quality, adhesives, and core materials are all built with safety in mind.
Why Vitrified CBN grinding wheels are necessary
Because of its many advantages and benefits, this crankshaft grinding wheel is the most recommended tool for automotive, motorcycle, diesel, and other sectors.
The hardness of this crankshaft grinding wheel is 30-50 percent greater than the usual type, and the wheel balancing performance is better.
With a thickness variation of less than 0.2 mm, it is very robust and wear-resistant. The parallel tolerance of two ends, on the other hand, is less than 0.1 mm.
It is intended to harden to a variety of hardness levels to match the needs of the application.
The shoulder area is subjected to surface grinding, while the pin is subjected to cylindrical grinding. This is critical for a wheel to function properly.
The most recent advancements in abrasive grains and vitrified bond technology are included.
It has a longer tool life and longer dressing intervals.
It offers high-profile stability and a constant surface finish.
It may protect the workpiece from heat and mechanical harm.
Has an excellent capacity to self-sharpen and can grind a variety of materials.
It has a high grinding ratio and requires a steady supply of coolant during grinding.
For large-scale manufacturing, it employs a diamond rotary dresser.
Crankshaft Grinding Wheel Tips
It's critical to choose the right product specification to determine if the crankshaft grinding wheel will work with your machine and other applications.
Grinding Wheel Selection
Depending on your application, choose the proper crankshaft grinding wheel. If you're going to use it on cast iron, keep in mind that it won't work as well on a high-performance crank. All of the work cannot be done by one wheel at the same time. Examine the many types of abrasive grains, grit sizes, hardness, structures, and bond changes available.
Choose a Rockwell hardness of 35Rc or below for cast-iron crankshaft grinding wheels that may be utilized on journals.
Choose a high-performance wheel for a more adaptable crankshaft grinding wheel. Domestic, import or high-performance crankshafts will be suitable for usage. Cast or forged steel, as well as nodular iron, might be used.
This kind of crankshaft grinding wheel can remove more materials, load less, and produce a better form for a longer duration.
Choose a hardness of 35Rc or above for diesel crankshaft grinding wheels that may also be utilized for journals. Diesel, high-performance, industrial, and billet steel crankshafts are all excellent candidates for Vitrified CBN crankshaft grinding wheels.
Grinding Techniques
After you've chosen the proper wheel, be sure to follow the procedures attentively while grinding.
Before installing the wheel, inspect it for any damage or cracks. You may do it by examining carefully or by performing the "Ring Test."
There should be no cracks and a clearer ringing when struck with a wooden or plastic mallet to determine whether a vitrified crankshaft grinding wheel is of excellent quality. Crankshaft grinding wheels of poor quality produce a bland sound rather than a clear one.
The maximum operating speed in RPM as compared to the actual RPM of the spindle that would drive the wheel. To maintain uniformity throughout the operation, use a tachometer to periodically monitor the spindle's speed.
Pay attention to the flanges' condition. The flanges must be level and of identical diameter on both sides of the wheel, with complete contact. Every time you mount the wheel, use a fresh blotter.
To get the greatest results, be careful to balance the grinding wheel every time. Install the crankshaft grinding wheel in the middle and tighten the cap screws to balance the wheels. Screws should not be tightened. Place the wheel on the balance stand after mounting it on a balancing arbor.
For it to be balanced, the wheel should be at 12:00, 3:00, 6:00, and 9:00. To keep the wheel balanced, check its location regularly.
Set up the machine with the crankshaft grinding wheel. Cleaning the grinding faces and sides is also required during the truing operation. Remove the wheel and test the balance after that. If required, you may change the weight.
Summary:
CBN Vitrified Crankshaft Grinding wheels are gaining in popularity as a result of their wide range of applications and contributions to the contemporary mechanical sector. With its high efficiency, high accuracy, low grinding cost, and wear-resistant qualities, there are many advantages and benefits to using it.
More customized grinding wheels are available, contact us.
Error: Contact form not found.