Brief Introduction of CBN Diamond Electroplated Grinding Wheels
Electroplated Grinding Wheels also called plated grinding wheels, which are a practical abrasive option for precision grinding as they have an amazing capacity to cut easily and swiftly without creating excessive heat. Electroplated grinding wheels are developed mainly for grinding ferrous and non-ferrous materials such as carbon steels, ferrites, tungsten carbide, ceramic, aluminum oxide, aluminum, grey and ductile iron, and aerospace materials.
These wheels are covered with super-hard abrasives like Diamond or CBN (cubic boron nitride) which makes them suitable for efficient material removal in cutting, grinding, and polishing applications. When it comes to specialized applications like producing aircraft components and such others, then electroplated CBN grinding wheels are regarded as the ideal option.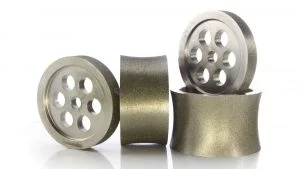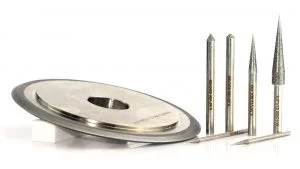 Features of Diamond/CBN Electroplated Grinding Wheel:
Grinding efficiency improves as heat production decreases.
Surface cracks and burns on the workpiece are less likely.
Brittleness is good.
Increased toughness
Outstanding shape-holding abilities
There is no need for truing or dressing.
Cutting with extreme accuracy
Stock removal rates are really high.
Longer life expectancy
In a continuous cycle, worn wheels are replaced with fresh CBN or Diamond grit. In most cases, wheel bodies may be reused several times. As a result, the tools are well-suited to high-volume work. For high accuracy rolling wheel requests, electroplating is the only option.
Detailed Description of Electroplated Grinding Wheels:
Metal bond, electroplated bond, resin bond, vitrified bond, and brazed bond are the different types of diamond and CBN grinding wheels. The relationship has a big influence on how well the wheel works. When the abrasive wears and dulls throughout the grinding process, the bond breaks down to regenerate new cutting edges. A single coating of abrasive is bonded to a thin layer of nickel on electroplated wheels. This form of bond removes hard material quickly and does not need redressing.
1. Working Principle
Electroplating is an electrolytic chemical technique. To breakdown chemical components into an anion and a cation, it uses an electro-imprinted anode method. The action of electricity attaches ions to certain products, generating a new layer of material. Within a grinding wheel, this procedure is employed. The first grinding wheel is comprised mostly of a metal alloy. The grinding wheel is made via sintering. The metal is readily available, making it perfect for this principle's manufacture, and the plating method has developed into a grinding wheel.
The primary concept is that the grinding wheel is electroplated on the metal alloy substrate using the shop street principle, and the electroplated grinding wheel has a high production efficiency and cheap cost. Electroplated diamond or CBN grains are applied to a carefully machined basis, such as steel. This technology makes it straightforward to create tools with complicated designs since the electroplated abrasive grains follow the geometry of the base metal.
2. Types of Electroplated Grinding Wheels
Diamond Electroplated Grinding Wheels
Diamonds, the hardest substance known to man, are also the best abrasive for material removal operations including cutting, grinding, and polishing. As a consequence, diamonds are the preferred material for cutting tools, which are now available in a wide range of sizes to suit a wide range of niches and applications. While most diamond tools are made using resin bonded or sintering metallurgical techniques to generate the abrasive surface, electroplated diamond tools have a specific advantage that becomes crucial when working in high precision applications.
In diamond electroplated tools, the binding material remains below the points of the diamonds that protrude from the base matrix. The material removal is more successful in this design because the diamonds cut through the material more readily. As a consequence of this design, less heat is generated, resulting in a significant boost in tool efficiency. The diamond surface's wear characteristic is reduced, as is the diamond surface's degeneration.
Advantages:
Electroplating permits diamond fragments to emerge outside the bond matrix, unlike resin bond or metal bond diamond products, which have diamond particles cached in bond and kept together by embedded resin or metal binder.
Electroplated diamond tools have the unique ability to cut freely and swiftly without releasing excessive heat as a result of this. Less heat production means better grinding efficiency, a lesser risk of fractures or burns on the workpiece's surface, and a significant reduction in equipment energy consumption.
Throughout its life, the mono-layer wheel construction needs no truing or dressing, reducing truing tool costs and non-productive wheel truing time.
CBN Electroplated Grinding Wheels 
Cubic boron nitride, a chemical with a hardness second only to diamonds, is used to replace diamonds in CBN-plated wheels. CBN has five times the abrasion resistance of traditional abrasives. Electroplated CBN tools also provide benefits that aren't seen in other electroplated tools.
Advantages:
Chemical resistance and thermal conductivity are outstanding.
Grinding hardened cobalt-based superalloys, as well as nickel and hardened alloy steels, improve surface integrity.
Saves money on grinding operations after heat treatment.
Provides users with fine dimensional control of tools, resulting in polished surface results.
No grit dulls the bit.
3. Abrasive grit size
Abrasive wheels are available in a variety of grit sizes. On an electroplated wheel, this may vary from 30 microns to 25 grits. The final polish is influenced by the grit size, as it does with other abrasive materials. As a consequence, many applications will almost certainly need progression through the grades to get the desired outcome.
4. Applications of Electroplated Grinding Wheels
Profiles with very small and challenging dimensions are created.
The grinding wheel's profile must be very accurate.
During grinding, you are unable to dress the wheel.
The tool must have a longer overall lifespan (incl. renovations)
Ground materials by Diamond Electroplated Grinding Wheels:
Carbide (grinding green and sintered tungsten carbide)
The material is ceramic (grinding ceramics like SIC, AJO, ZrO, etc)
a vehicle (brake liners and cutting re-enforced rubber moldings)
Medicinal products (grinding factitious knee joint)
Dentist (profiling rubber bonded grinding pins)
Ferrite (grinding magnetic parts)
chemistry (grinding laboratory glass)
Graphite (grinding graphite parts)
a piece of glass (grinding tubes, automotive components)
Fiberglass, plastics, and electronic components, among other materials.
Ground materials by CBN Electroplated Grinding Wheels:
Steels for high-speed tooling
Steel for dies
Carbon steels that have been hardened
Stainless steels that have been hardened
Steel alloys, titanium alloys, and aerospace alloys
Materials that are resistant to abrasion, such as ferrous materials
5. Application Industries of Diamond/CBN Electroplated Grinding Wheels
Diamond/CBN Electroplated Grinding Wheels are used in a variety of industries.
Gear shaft grinding, camshaft grinding, and crankshaft grinding are all examples of automotive grinding.
Machining of composite components for aircraft engines in aeronautics and space
Mechanics: Cast, composite, and fiber grinding
Edge grinding on the bidirectional machine for glass
Brake pad machining with ceramic and ferrite
Form wheel for stone fireplaces (stone and construction)
Summary:
To summarize, electroplated grinding wheels are single-layered wheels with a thin layer of nickel that is controlled during the plating process holding the abrasive together. The main advantage is for applications that require a high removal rate for hard materials and products that must maintain critical form without re-dressing. The ability to strip and re-plate for up to 30% less than purchasing a new electroplated wheel while also lowering turn-around time is the main benefit.
Electroplated grinding wheels, unlike sintered grinding wheels, can have core bodies in a wide range of shapes. As a result, electroplated wheels are ideal for grinding unique workpiece profiles. Another benefit is that a greater grinding speed may be used with minimum heat output. Last but not least, the diamond / CBN coating on electroplated grinding wheels may be removed and replaced. This is a big cost-cutting benefit.
More customized grinding wheels are available, contact us.
Error: Contact form not found.