10S Polishing Wheel for Glass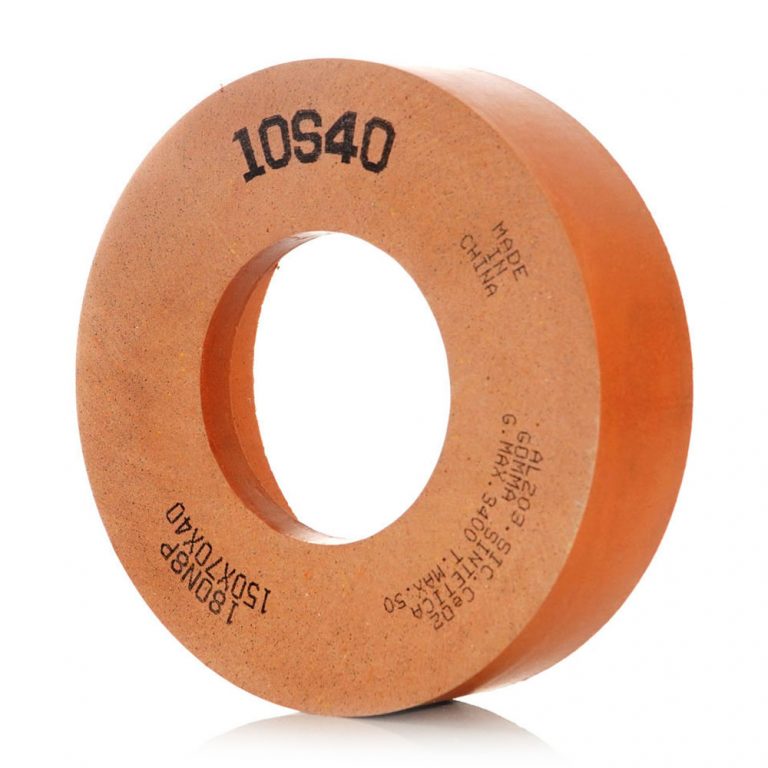 Short Description:
10S polishing wheels are excellent tools for polishing glass materials after the grinding process. This tool is composed of a combination of polishing powder, rubber binder, and abrasive grains and is usually generated after the reaction. 10S polishing wheel has its own unique feature when it comes to high strength, good elasticity, high polishing rate, good polishing effect, sharp cutting, and good wear resistance. Its application field focus on processing various materials like glass, crystal, stone, ceramics, and other materials.

Detailed Description of 10S Polishing Wheel
Product Specification:
In most markets, this polishing wheel has a 150 mm diameter applicable for bottom edge glass polishing. For chamfering glasses, a 130 mm diameter is used. Most standard 10S polishing wheel has 40/60/80/120 # mesh numbers that indicate the roughness of the grain size. Here's a popular specification of a 10S polishing wheel available in the market. Special parameters can be done depending on the customers' needs and applications.
Important notes: For shaper grinding, use a smaller mesh since it also creates a bigger particle size. While a larger mesh will give you a smaller particle size of sand and a more resistant grinding wheel. Likewise, it will give you good sharpness compared to smaller mesh numbers.
| | |
| --- | --- |
| Mesh | Features |
| 10S40 | Sharp, long-life, bright, and suitable for glass materials below 12 mm polishing |
| 10S60 | Sharp, long-life, bright, and suitable for glass materials below 10 mm polishing |
| 10S80 | Flat polishing, not sharp, has long-life and bright |
Dimensions:
Model
D (mm)
X (mm)
H (mm)
Grit
Drawing
10S
10S Arris Wheel
130
35
60
40, 60, 80
10S40/60/80/120 Hemline Wheel
150
50
30
150
40
70
Types of 10S Polishing Wheel
This polishing wheel can be categorized into three types which have their own applications according to the machine to be used.
10S-I Type: This type does not require a high-performance operation to achieve that bright polishing effect. Overall, this type is commonly applied for polishing glass materials like building glass.
10S-II Type: Compared to 10S-I, this type has much better quality. It requires great polishing performance which usually creates an excellent surface finish. This tool type is mainly used for polishing furniture glass materials.
10S-III Type: Apart from the two types, a 10S-III type can be considered as the best option since it needs higher brightness and polishing performance. It also has the best polishing performance quality and has been proven as the most durable type among the three.
Features of 10S Polishing Wheel
When it comes to domestic glass deep processing, most glassworkers choose 10S polishing wheels because of their wide range of satisfying polishing performance and benefits. Here are some of its features.
This tool has stable control quality, has a good polishing technique for cup shape, and has an upgraded formula.
It is recommended for polishing various glass materials due to its high operational speed.
This polishing wheel has high operation efficiency and provides an excellent surface finish.
The hardness feature of this polishing wheel provides strong force polishing characteristics which is very ideal for polishing products.
It does not easily wear out and can provide longer service life compared to other tools.
When it comes to various processing methods like furniture and glass, a high degree of brightness is being used.
This tool has its own elasticity feature and superb polishing performance which has the upper hand when it comes to polishing special bevel and straight-line edging machines.
Application of 10S Polishing Wheel
This polishing wheel is greatly applied to glass polishing after grinding productions. Materials or products that are produced through the 10S polishing wheel are the following: construction glass, furniture glass, electronic glass, appliances glass, and bathroom glass. This tool can also be a good agent for processing architectural glass doors and windows, glass tables, glass rods, indoor screen glass, glass office partition, and many more.
Applicable Machine
Various types of machinery can be applied for 10S polishing wheels such as straight edging machines, glass double edge machines, shape edging machines, multi-functional machines, automatic beveling machines, and shape edge beveling machines, where these machines specialized in specific polishing processes. When it comes to edge chamfering and bottom-edge glass polishing, bilateral and straight edge machines are usually used together with the 10S polishing wheel.
Tips While Using 10S Polishing Wheel
Before using the 10S polishing wheel, check out these tips for efficient and maximum tool utilization.
The first is to check the wheel type. There are three types of wheels. These are full segmented, half segmented, and continuous rim. After choosing the wheel type, pick the sizes and grit level according to the application, usage, and machine type.
If you will be polishing materials, you can use a suitable polishing wheel with a 3-25mm thickness. Next is to adjust the equipment pressure and operating speed but consider its thickness to avoid damage or cracks.
Afterward, from the size of the glass, try to adjust the position and angle between the grinding wheel and glass material.
Moreover, using enough cooling water during the grinding process is very much important.
To know more about various polishing wheels, check out our site by clicking this link https://forturetools.com/product-category/polishing-wheel/.
More Customized Polishing Wheels are available, contact us.
Error: Contact form not found.