Soft flexible diamond Polishing wheel is used for polishing precious stones such as lapidary, gems and jade. in which diamond grains embedded within a tough, flexible plastic resin and backed by an extra soft, extra thick sponge rubber backing. This soft, flexible construction enables the surface of the Soft Wheel to conform to your stones, eliminating flat spots and scratches. These wheels are manufactured with an aggressive resin bond, resulting in a rough texture with sharp points.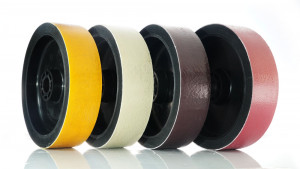 Application:
It can be used to polish precious ornaments such as gems and jade, which will not change the current status of gemstone jade surface during grinding;
Can be used for surface polishing of various artificial crystals, glass crafts, etc.;
It can be used for surface grinding of small crafts such as ceramic crafts, metal pendants, wood products, etc.;
Can be used for grinding and polishing of glass lenses;
Can be used for bracelet processing;
Can be used for metal materials processing.

Compared with ordinary abrasive flexible wheels:
High grinding efficiency and long service life;
High processing accuracy and small surface roughness of the workpiece;
Suitable for processing hard and brittle materials;
Less dust and less environmental pollution.
Main Features:
Has excellent flexibility and excellent cutting ability;
Can make the surface of the workpiece reach excellent finish and brightness;
There are special grinding and polishing equipment, easy to use, simple and safe operation;
There are Three Steps for Grinding and Polishing a Lapidary stone.
First Step Grinding, Use Electroplated Diamond Wheel
Second Step Polishing, Use a Soft flexible diamond Polishing wheel
Third Step Botton Polishing, Use a lapidary diamond plate disc
Soft flexible diamond Polishing wheel Size Chart

Type
Size
Grit
Diameter
Thickness
Center hole
(Inch)
(mm)
(mm)
(mm)
Plastic Body
6
150
38
25.4/19/15.8/12.7
60#
140#
280#
600#
1200#
3000#
8000#
14000#
50000#
8
200
50
25.4/19/15.8/12.7
60#
140#
280#
600#
1200#
3000#
8000#
14000#
50000#

[contact-form-7 404 "Not Found"]