Resin Bond Cutting Wheels
Short Description:
Resin bond cutting wheel is a cutting tool categorized into two types which are the resin bond diamond cutting wheel and resin bond CBN cutting wheel. Cutting carbide, ceramics, exotic metals, and other rough and brittle materials are the specialty of resin bond diamond cutting wheel. While resin bond CBN cutting wheel is applied for hard steel cutting especially those above Rc 50.
Advantages of diamond CBN resin bond cutting wheels:
This tool has high cutting performance and efficient operation.
It is suitable for various operating conditions such as the wet and dry cutting operations
It has low heat generated feature which prevents burning and can extend the tool's life.
Highly durable and low-cost effective.
It creates low roughness on the various workpiece surface
Detailed Description of Resin bond cutting wheel
For every work field process, it is very essential to know the features of your cutting wheel that will surely work well with your machinery. Not only that, it ensures easy manipulation, efficient and precise cutting mechanisms. For cleaner and fast operations, getting a fine blade bond type is a big factor for cutting any workpiece.
These resin bond cutting wheels are very convenient to various fields like automotive shops, medical manufacturing industries, tool shops, construction sites, and many more due to their great serviceability. These polishing wheels are highly recommendable if you are looking for a high-quality cutting wheel that can satisfy your needs. That is why assisting potential buyers in choosing the right resin bond cutting wheel is a must and should be done accordingly.
Resin Bond Cutting Wheels
These cutting wheels are very ideal for standard cutting wheels because it meets several cutting requirements for potential buyers.  Among the existing bond cutting wheels, this tool is the most versatile for those who have expertise in cutting and grinding wheels.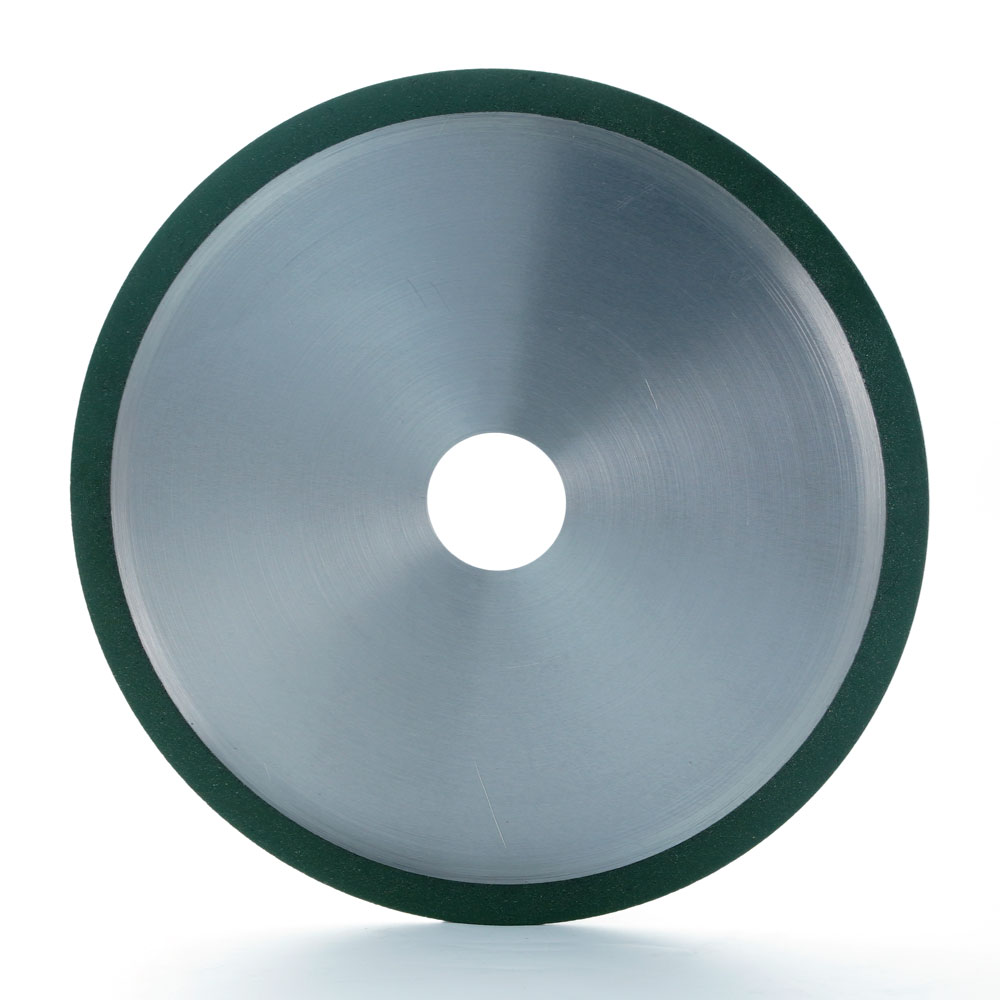 Resin bond cutting wheels are built by expert engineering individuals in accordance with a specific cutting requirement. This tool comes with several benefits like self-sharpening abilities and high cutting efficiency features. It also has an excellent degree of elasticity which enhances the low in-feed forces. Due to this, this tool can ensure a smooth cutting operation which is applied by its superior performance and finishes.
Furthermore, like any other cutting wheel, it also has its heat resistance and wears resistance feature. These are very essential factors to improve the performance of the tool and extend its life service.
Aside from that, resin bond cutting wheels can be applied for dry and wet cutting operations in accordance with the used material, application, and requirements. This tool is highly recommendable because of its high cutting precision on various materials such as tungsten carbide, Inconel, stainless steel, high-speed steel, PCD & PCBN, and ceramics.

Features of Resin Bond Cutting Wheels
Apart from other bond cutting wheels, this tool is highly commended by industrial fields for its wide range of benefits. Here are some of its highlighted features.
Top class cutting precision: This tool is known for its flexibility which makes it highly efficient in any mechanical work. It can easily accomplish production processes like pipe fabrication, shipbuilding, welding preparation, railways, and construction.
Suitability: You can clearly achieve those deep cuts even in a dry cutting operation since resin bond cutting wheels can adhere to proper cutting steel and are usually applied for deep cutting.
High-quality features: You can enjoy longer service hours for this tool. It is very capable of sharpening itself and maintaining a low temperature during cutting operations. Aside from these, the operator won't have a problem with it because of its versatility and durability.
Multipurpose Tool. This tool is applied to various practices like cutting electrical carbon products (such as ferrite, carbide alloys, ceramics, and semiconductors).
Applications of Resin Bond Cutting Wheels
When it comes to creating excellent finishes, shock-resistance features, and low-cost maintenance tools, these resin bond cutting wheels are the go-to place of many operators. This only explains why it is very popular in the market. Here are some of its awesome applications that you can refer to.
This tool is composed of a combination of abrasive grit and a phenolic resin which is a good factor in having impressive resilience and can withstand any impacts. Operators can simply apply the properties of the finished cutting wheel to various work practices.
This tool is highly flexible and is recommended for chip-free cutting since it has a faster cut mechanism, has more precision, ensures minimal dressing, and offers a smoother finish.
Applicable Industrial Fields:
Resin bond cutting wheels can be applied for Tungsten steel rod processing which is a drill bit (bar sectional cutting), PCB board micro-drill bit, die tip, electrode rod, and gong knife. Plus, it is also used on textile industries, machine tool journal, machine tool axis, and many more.
Optical Industry: optical glass, including camera lens, microscope lens, magnifier lenses, telescope lenses, spectacle lenses, etc.
Automotive Industry: valve rods in automotive engines
It can also be applied for superfine sharpening stone dry slicing and for processing magnetic material.
Cutting Works: cutting slots of brake pads
Applicable for creating circuit board and for sapphire processing
Types of Resin Bond Cutting Wheels
Here are the types of resin bond cutting wheels available in the market.
1A1
1L1
14A1
1FF1
1F1
1EE1V
1V9
1A6Q
1A1R
1E6Q
14E6Q
14EE1
14E1
1DD1
4B1
1A8
There are two categories of a resin bond cutting wheel; Resin bond diamond cutting wheels and Resin bond CBN cutting wheels. Each type has its unique applications like quartz tubing rods, pyres tubing & rods, ultra-hard ceramics, ceramic tubing & rods, carbide, ultra-hard steels & metals.
Diamond Resin Bond Cutting Wheels
This type of resin bond cutting wheel is also known as a dicing blade with excellent features like its vertical consumption and it also decreases grain deformation occurrence. This tool is very efficient in making good quality of cutting on brittle, delicate, and hard materials. This tool can improve surface finish and minimize heat generated. Common materials applied to this product include carbides, ceramics, and exotic metals.
Industrial fields that used resin bond diamond cutting wheels are the following:
carbide cutting tool industry, ceramics industry, glass industry, quartz Industry, thermal spray industry, and many more.
Resin bond diamond cutting wheels have high-strength and rigidity steel core plus abrasive layer, which contributes to multi-cutting and deep cutting process. This tool is also suitable for cutting a wide variety of materials like ceramics, carbides, glass, stone, quartz, Silicon, and other specialty materials.
Features of Diamond Resin Bond Cutting Wheels
Here's why resin bond diamond cutting wheel is very essential for cutting works.
This tool can improve the cutting quality and working efficiency.
Its sharp-cutting features make the cutting process much faster.
It also maintains chip-free cutting.
And, it can create an excellent surface finish on various materials.
CBN Resin Bond Cutting Wheels
Unlike resin bond diamond cutting wheel, this type of tool is recommended for most tool and cutter grinder operations. With the vast changing operations in cutting machines, this tool is the best option for ensuring productivity and precision. This is because of its merging automation and flexibility. This tool can certainly reduce the cost of cutting without even decreasing the quality of the production.
Operators find this tool to be very convenient with its high durability and easy manipulation, especially when there's no need for conditioning. This is important for preventing fallout on the maintenance of the wheels. In general, there is a 20% to 50% or higher chance of saving cutting costs with these CBN cutting wheels.
Likewise, resin bond CBN cutting wheels are the best choice for most cutting workpieces such as cast iron, high-speed steel, nitriding stainless steel, stainless steel, hardened steel, tool steel, and many more.
Features of Resin Bond CBN Cutting Wheels
Here's why the resin bond CBN cutting wheel is very important for cutting works.
It has good self-sharpness suitable for various materials
It has its own small grinding force
It prevents blocking during the cutting process
It is highly efficient and durable
Summary
Compared to metal bond wheels, resin bond cutting wheels have a shorter life because of the adhesion between the bond and the grit. But the advantage of it is in the cutting process. It definitely has better cutting features especially for hard-to-grind materials like ceramics, cermet, and many more.
For better results, you have to note in mind that Diamond and CBN resin bond cutting wheels are far different from metal bond wheels. These resin bond cutting wheels can create novel cutting edges that are quite easy and has an irregular shape.
This kind of cutting wheel is very applicable in various industries because of its excellent features like its highly efficient cutting performance suitable on both wet and dry cutting conditions, it also features low heat generation, and prevents burning. It can also maintain long service life, is very cost-effective, and has low roughness on surface materials.
With this content, we firmly believe that you will be guided accordingly to what a resin bond cutting wheel is capable of. Make sure to purchase high-quality tools that can meet your professional requirements and needs for any cutting work.
You can also have More other customized cutting wheels from us.
Error: Contact form not found.