Diamond Milling Cutter's brief introduction:
Diamond Milling Cutter is mainly used for glass cutting, slotting, and milling. They are constructed with bronze powder and synthetic diamond grains, which are always sintered under high temperature and pressure. These are usually applied for glass processing like home appliances glass, kitchenware glass, bathroom glass, furniture glass, architectural glass, and other industrial glass.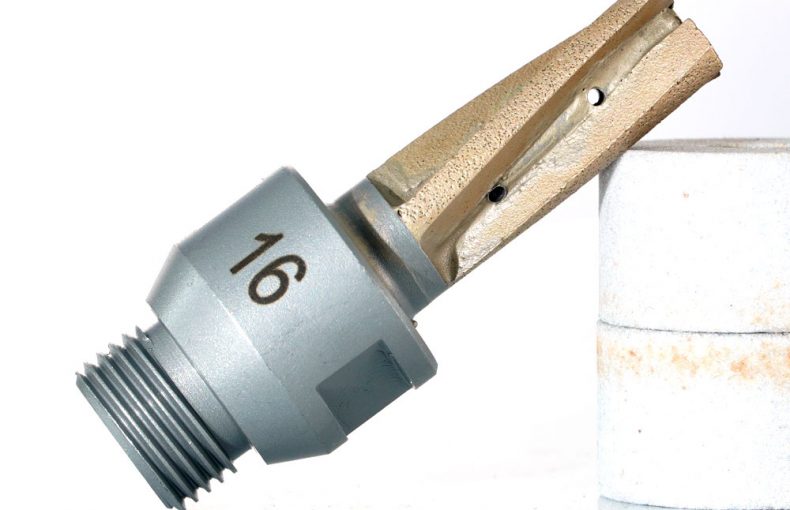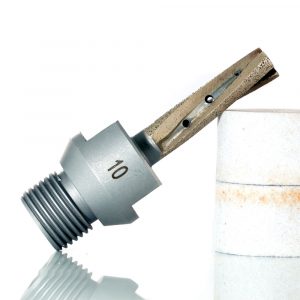 Diamond milling cutters are most commonly applied and operated with CNC machines, CNC drill bits, diamond grinding wheels, diamond chamfering wheels, and polishing wheels, which are used for processing various glass shapes. The good thing about this diamond milling cutter can reduce temperature while working through its water holes. This is a great thing for discharging debris and prolonging the life of the tool. Plus, it can ensure security fastened on the matrix and will give good cooling conditions.
Diamond milling cutters are sintered by selected diamond abrasive grain and premium metal bond which are both in higher temperature and pressure conditions. Most glass workers use it in CNC working centers with a speeding of 12,000 RPM. This product is definitely good for glass cutting since it has sharp features and wear resistance. Glass like square or glass door grip position are glass materials that can be created with diamond router bits or diamond glass router bits through milling processing.

Diamond Milling Cutter's Features:
Guaranteed Dynamic Balancing: The diamond milling cutter has 100% dynamic balancing due to its material component. It is a CNC process consisting of a four-dimensional body technic. It also has an Italian trim treatment on a diamond sand layer.
Rust-Resistant and High waterproof performance: With its Italian rust-resistance process, you can also expect high waterproof performance. This will prevent scraping of the paint layer which is a good factor for surface protection.
High-quality tool performance: You can expect a faster drill penetration because it is made up of a sand layer that has excellent self-sharpness.
Adopted original element: It has this six-diamond sand and high-end Chinese metal bond.
Special Italian Diamond Sand Filler: It also has special Italian skills to fill up the several layers of the diamond sand level.
Product Specifications:
There are several specifications for a Diamond milling cutter. They are offered in various grain sizes and bond matrices, so many could find innovative solutions for every customer. Also, a diamond milling cutter is offered to various types of materials like ceramics, glass, or different types of rock considering the right tools and requirements needed in the work process. Here are some popular specifications in the market about diamond miller cutter router bits tools.
Diamond Milling Cutter specification chart

Diameter (mm)
Length (mm)
Diamond section (pcs)
Shank
Diameter (mm)
Length (mm)
Tool (pcs)
Shank
8
80
3
1/2″GAS
20
80
5
1/2″GAS
10
80
3
1/2″GAS
22
80
4
1/2″GAS
12
80
3
1/2″GAS
22
80
5
1/2″GAS
14
80
4
1/2″GAS
24
80
5
1/2″GAS
16
80
4
1/2″GAS
25
80
5
1/2″GAS
18
80
4
1/2″GAS
26
80
5
1/2″GAS
20
80
4
1/2″GAS
Detailed Description of Diamond Milling Cutter 
1. Applications of Diamond Milling Cutter:
There is various special application of Diamond milling cutter in various industry. Whether is it for glass drilling or metal drilling, you can make so many more things with a diamond milling cutter. Here are some of its popular applications.
Glass Drilling and Metal Drilling. With a tool machine, diamond milling cutters are used to drill holes on various types of glasses and metals.
Glass Cutting
Slotting
Milling
CNC Machine operations. It is mainly operated together with a CNC arris router, diamond grinding wheel, chamfering wheel, polishing wheels, and other materials.
2. Materials Processed with Diamond Milling Cutter:
Diamond milling cutters can process efficiently various materials like glass, ceramics, rocks types (granite, marble), and other high-quality materials.
Quarts Glass
Float Glass
Glasses for Optical Areas
Ceramics
Dental ceramic
Carbon
Boron carbides
Silicon
Hard metals
3. Industries that use Diamond Milling Cutter:
Here are industrial fields where diamond milling cutter is being utilized.
Dental and Medical Technology
Automotive
Aerospace
Glass and Ceramic Industry
Watch Industry
4. Benefits of Using Diamond Milling Cutter
We all know where diamond milling cutters are usually used. Whether it is for glass cutting, polishing, milling, or slotting, it has its own magnificent features to give a high-quality performance. Here are some benefits or advantages of a diamond milling cutter.
Has sharp-cutting mechanism and long-lasting service tool
It provides good strength and wears resistance which maintains its efficiency
Its diamond dust holes saw with a shank will provide good cooling conditions so you can work with it in its cool temperature condition.
Its component set is ideal and recommendable for cleaning drills and maintaining accurate holes.
The diamond coating of this product offers superior tool performance and life.
The performance data (sharp, durable, tiny chips on a glass edge, even, and regular cutting lines without breaking the points) of the diamond milling cutter only satisfies the customer's expectation.
Has an average lifespan of 240 meters for 19 mm of glass with a 20 mm router in 5 segments.
The glass feeding speed of 0.63/min. with spindle rotational speed of 12000 RPM makes its performance satisfying.
Diamond milling cutter provides high-quality results in various materials glass, marble, slate, and tile.
Facts About Diamond Glass Milling Cutter
There are various factors you should consider in choosing the right diamond milling cutter. Of course, it will depend on the equipment to be used, the size of your material, key mechanical parts, and the method to be used.
Before you can proceed to any work, you have to choose first your type of milling procedure. This is an important method to increase the production capacity and working efficiency without costing too much in terms of equipment, time, and cost. You may use rolling cutting in face milling, while for hole machining use a milling cutter when the conditions are right. Consider the main angle of your diamond milling cutter. Set the main angle between the cutting edge and cutting plane. This will be a great help in getting a good result of the radial cutting force and cutting depth. The cutting power and the vibration resistance of the tool highly depend on the radial cutting force. To gain better results, you have to remember that the smaller the main declination angle, the smaller the radial cutting force and better vibration resistance. But due to this, the cutting depth might decrease.
The next thing that you've got to consider is the size of the milling cutter. It has something to do with its diameter. The diameter should be selected depending on the width and depth of the milling cutter. The larger the depth and width, the larger the diameter of the diamond milling cutter. The diameter of the milling cutter gets smaller during rough milling. But it gets larger when you are finished with the milling process. This is because there is a need to accommodate the entire processing width of the workpiece. Lastly, you have to select the right milling method. You have to optimize the milling strategy at all costs. Try to consider the cutting tools and how to use them in cutting any workpiece. The rolling cutting method is also a great way to feed. This will definitely reduce the feed rate and cutting speed, which makes the diamond milling cutter rolls easily onto the workpiece. You can also use down milling or up milling.
Selecting the right milling cutter angle, size, and feed method will make the milling process highly efficient and effective. The cut workpiece can give off minimum vibration and tensile stress. This can result in more effective drilling of milling holes.
More customized diamond tools are available, contact us.
[contact-form-7 404 "Not Found"]