Edge Chamfering Wheel
Edge chamfering wheel is designed for marble edge chamfering and polishing. It's an abrasive tool also used for the precision machining of several materials, including jade, glass, beads,  agate, and other building materials.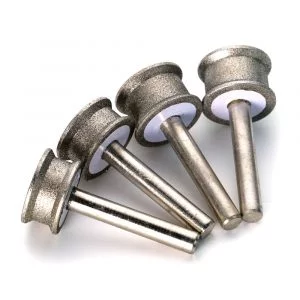 It's commonly used for surface polishing on different kinds of glazed vitrified tiles. It comes with numerous advantages, which gives it a quality edge for glaze polishing abrasive works over other similar tools. It guarantees high gloss, good sharpness, long work-life, and no scratch mark.

Important Features
Rapid grinding mechanism
Great polishing works on travertine and marble edge profiles
High efficiency on production with low production cost
Incredible high speed and amazing glossiness on surfaces
Consistent angle and uniform thickness
Detailed Description
Edge chamfering wheel is perfect for marble edge chamfering and polishing. It can be purchased in various grain dimensions and sizes. Also, it is classified into resin-bond silicon carbide chamfering wheel, electroplated diamond mounted points edge chamfering wheel, metal bond diamond chamfering wheel, and many more.
Applications of Edge Chamfering Wheel
Edge chamfering wheel has the following applications:
For chamfering and polishing marble edges
For grinding and precision machining of various materials
For stone carving, bone carving, jade carving, glass carving, egg decorating, etc.
For dressing, sculpturing, precision grinding in various industries. It's also suitable for internal grinding carbide in ceramic, precious stones, glass, alloy, and other abrasive materials.
Applicable Machines for Edge Chamfering Wheel
Edge chamfering wheel is used effectively to restore and re-polish work, which can work together with different machines. It's ideal for semi-automatic, automatic, multiple head machines, bevel edge polishing machines, edge polishing machines,  and arc edge polishing machines with deep processing for edging and chamfering procedures. Besides, it is used on 10-14 head automatic edge polishing machines.
Specifications
Edge chamfering wheel comes with various specifications, which heavily depend on the client's application and requirement. Below are the popular product specs of the edge chamfering wheel:
| | | | | | |
| --- | --- | --- | --- | --- | --- |
| Bond | Abrasive Grain | Grit | Head Diameter | Shank Diameter | Groove Thickness |
| Diamond | Electroplated | Rough 150# and Fine 400# | 20 mm | 6 mm | 3 mm, 4 mm, 5 mm, 6 mm, 8 mm, 10 mm, 12 mm |
| Resin Pressed | | 500#, 800#, 1200#, 1500# | | | |
| Magnesite | | 24#, 36#, 46#, 60#, 80#, 120#, 180#, 220#, 240#, 280#, 320# | 90 mm/ 130 mm | | |
| Synthetic | | 400#, 600#, 800#, 1000#, 1200# | 90 mm/ 130 mm | | |

Tips on Using Edge Chamfering Wheel
Edge chamfering wheel is made specifically for chamfering after squaring ceramic tiles, which helps with safety in utilization and transportation. Through the chamfering process, sharp edges are effectively removed. This helps reduce possible cuts and accident incidence to those handling metal pieces.
Below are some tips that could be of great help  when using the edge chamfering wheel:
Ensure that the electric drill speed is 3600 RPM. Also, the machine speed and bench drill must be 6000 ~ 10000 RPM.
While grinding, Make sure you use water as a cooling lubricant. To achieve the best result, you will need to polish the water.
If you intend to use the diamond grinding wheel for precision machining glass materials, ensure you consider the glass thickness, agate, jade, beads, and other materials used for the building process.
Ensure you check the material thickness when using the edge chamfering wheel. In case the thickness is 8mm, go for its corresponding groove at 8mm.
Ensure that you equip the chamfering wheel with a snail lock pad, which can be replaced easily. Using a snail lock pad will offer better control, making the grit easy to replace and reducing fatigue on the operator.
More customized Mounted Points are available, contact us.
Error: Contact form not found.