Electroplated Diamond Reamer for Adjustable and Stationary Type
Diamond reamers are designed to produce accurate geometrical holes with a controlled surface finish. They feature a diamond spiral sleeve mounted on a conical spindle, which gives their diameter a perfect adjustment.
The two types of diamond reamers are electroplated adjustable and stationary diamond reamers. Both types are perfect for use when errors are made while working on a work piece. With these diamond reamers, you can make corrections easily on errors made on a geometrical hole during prior production processes. Besides, diamond reamers are ideal tools for hole finishing of ferrous automobile parts,  cast iron-based hydraulic parts, and so on.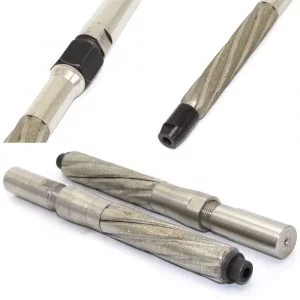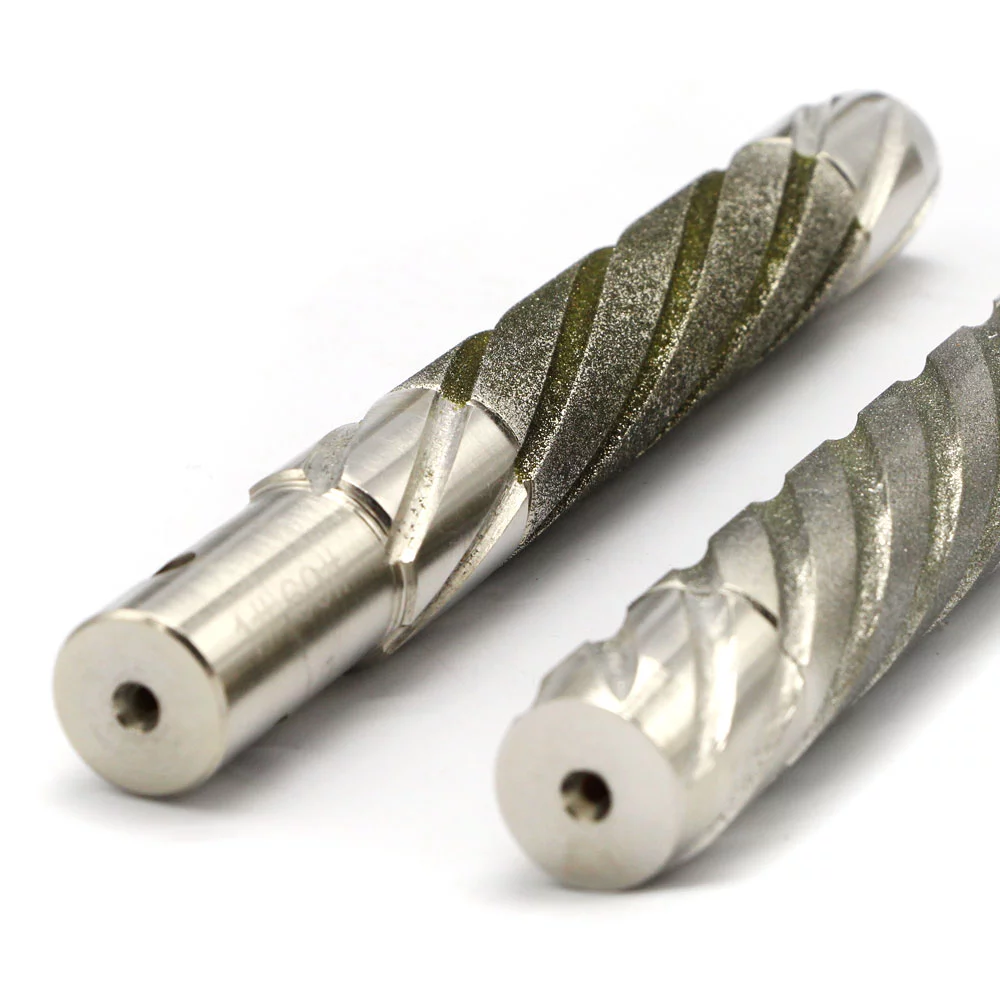 Important Features
Fast cycle times through maximum accuracy
Great product usage
User-friendly due to their simple structure
High hole precision
High performance
Detailed Description
The diamond reamer can work on a significant quantity of beads with plenty of tiny hones. Electroplated adjustable and stationary diamond reamers are usually used by designers and jewelry makers to enlarge material holes. Concerning hole processing, reamers can be very helpful, motorized or not.
Diamond Reamer Types
Diamond reamer is of two types,  which are often used in hole finishing. These include adjustable and stationary diamond reamers.
Adjustable Diamond Reamer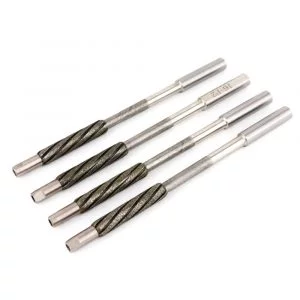 Adjustable Diamond Reamer comes with an edge diameter that can slightly be adjusted several times.  Due to this, there is a possibility in its expansion, which helps reduce its processing cost.
It's a type that features lower piece cost, better statistical capability, and longer work-life when compared to carbide-tipped reamers. Adjustable diamond reamer comes with better geometric control, particularly on the roundness, size, and surface finish. This ensures lower costs and lesser requirements for bore/honing sizing. In addition, the reamer is characterized by a higher advantage when cutting tough material than some conventional reamers.
Specification of Adjustable Diamond Reamer
The adjustable diamond reamer can effectively help ream the inner diameter of cast iron and other brittle materials featuring maximum accuracy. The micron-level accuracy can be obtained repeatedly with one pass operation in the process. The abrasive sleeve and the external diameter of the tool can be adjusted according to the needed requirement. Also, this tool is designed for mass production under high precision.
Material
Diamond
Length
80mm / 3.14in
Diameter
3mm, 3.5mm, 4mm, 4.5mm, 5mm, 5.5mm, 6mm, 6.5mm, 7mm, 7.5mm, 8mm, 8.5mm, 9mm, 9.5mm, 10mm, 10.5mm
·         Know that 3mm and 3.5mm are not Adjustable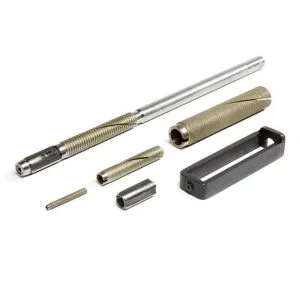 Technical Data of Adjustable Diamond Reamer
Diameter
Abrasive Sleeve Code
Length of Abrasive Sleeve
Select the abrasive sleeve according to the length and workpiece
Length of abrasive
Length of workpiece
9.5 – 9.9
4-HPH-d1-XX-L
65/76/90
65
Workpiece < 28
9.9 – 12
5-HPH-d1-XX-L
65/76/90
76
25 < workpiece < 35
11.9 – 13.5
6-HPH-d1-XX-L
65/76/90/101
90
33 < workpiece < 45
13.4 – 17
7-HPH-d1-XX-L
65/76/90/101
101
43 < workpiece < 56
16.9 – 20
8-HPH-d1-XX-L
65/76/90/101/127
127
55 < workpiece < 76
21.9 – 24
9-HPH-d1-XX-L
65/76/90/101/127
Important Components
Lining
Mandrel
Abrasive Sleeve
Gaskets
Screw
Applications of Adjustable Diamond Reamer
To make mechanical opening parts in the met working field.
Installation on milling machines, drilling machines, etc.
Sizing and finishing precision bore.
For hard reaming and semi-precision reaming.
Valve body, hydraulic valve, and distribution valves
For brake cylinder, engine injection pump, rocker arms, supercharger, parking pawls, connecting rod, powered metal components, ceramic components, etc.
Features of Adjustable Diamond Reamer
Designed with high-quality diamond
Hard and durable
Ideal for copper, aluminum, woods, plastics, alloy, etc.
Can reduce reaming resistance
Help boost the precision and accuracy of the holed material
Can reduce surface hardness
Can boost quality processing, tool operability, and productivity
How to Use Adjustable Diamond Reamer
Reassemble the rough reamer on the powerhead
Open the footswitch. Then hold the valve body with both hands and push it forward in an even direction
Make the reamer size smaller if the open reaming amount is large. And if the handle is loose, increase the reaming amount until you get suitable quality. Note that the operator's handle control is uniform and has specific resistance during the pushing process.
Avoid reciprocating the reaming process numerous times. The process is expected to be done back and forth.
Do a thorough inspection of the reamed valve holes to see if they are the appropriate size and qualified. Then you can complete a batch of valve holes. With this use middle reaming and fine reaming to take turns. Note that the adjustment methods here are not different from coarse reaming.
Continue with the reaming process. Use two reamers only if the batch size is not large. Coarse reaming uses a similar amount, one for the hard reaming process and the other for the medium of fine reaming after making size adjustment.
Stationary Diamond Reamer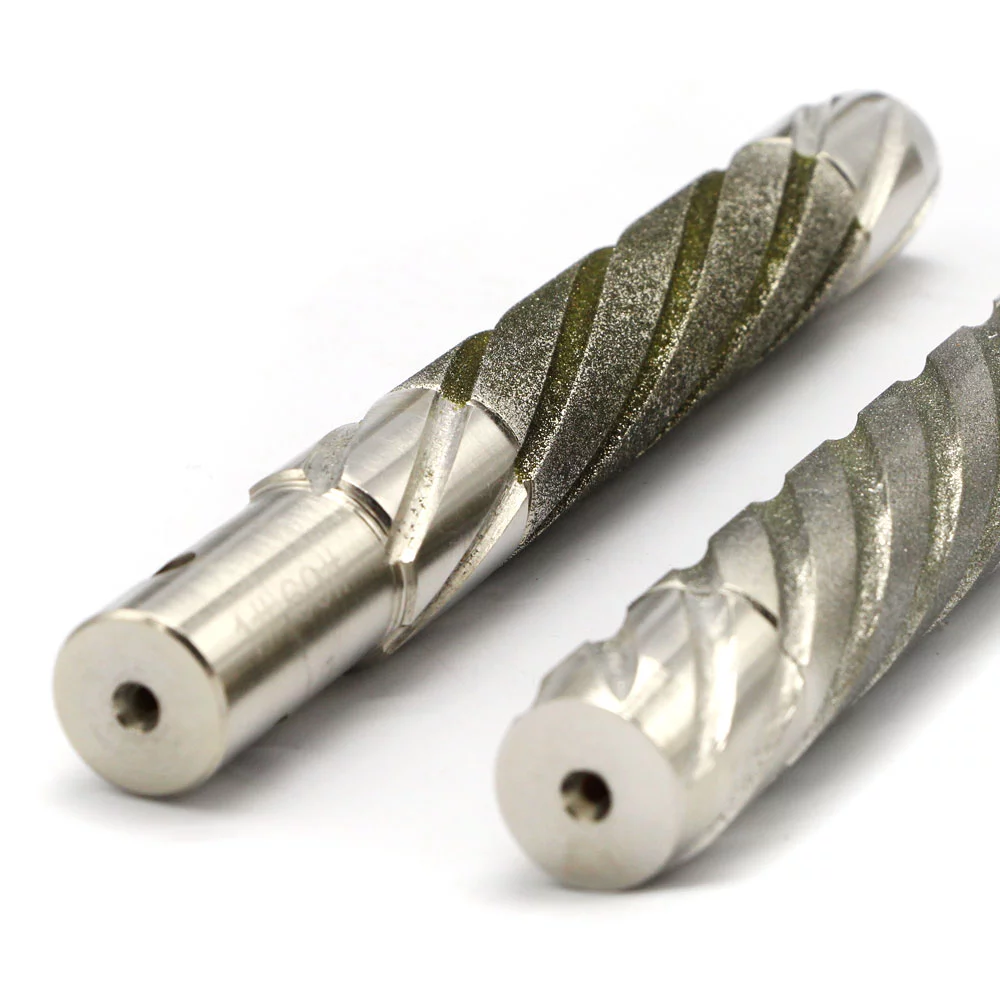 Stationary diamond reamer is designed for fine reaming that falls under a high precision reamer. It's perfect for production materials such as air conditioner, compressor cylinder hole, refrigerator, piston hole, hydraulic valve hole, nozzle oil pump, automobile engine cylinder, motorcycle, powder metallurgy, gear, super hard parts, gold pieces, and so on.
Specification of Stationary Diamond Reamer
Below are the manufacturer's range and dimensions of stationary diamond reamers available in the market.
| | |
| --- | --- |
| Product Number | Product Name |
| Grain size | #30~200 |
| Accuracy of run-out | 0.002 |
| Accuracy of external diameter | ±0.002(standard) |
Application of Stationary Diamond Reamer
For cutting and grinding
For fine reaming
For mechanical hole processing and other general-purpose applications
For fine & rough hinge and fine grinding.
For precision machining of small holes (such as vitreous holes, taper holes, and through holes) of several brittle metal/non-metal workpieces.
Features of Stationary Diamond Reamer
Designed with a super diamond plating process for low cost and long work-life
Can improve abrasive sleeve design, which helps with quick chip removal
Feature better accuracy and heightened production efficiencies
Come with a good rigidity body and easy grinding
Stable machining hole size with lower tool life when compared to its adjustable counterpart.
Benefits  of Diamond Reamers
Check below to see diamond reamers are convenient and necessary.
Excellent adhesion quality for a diamond coating and fastness.
High-quality appearance via uniform diamond particles
Great body structure for different parts.
Highly efficient and designed for long-term use.
Feature "tailor to measure" service option to create more value for customer service
Diamond Reamers and Their Industrial Fields/Work Areas
Below are the industrial fields/work area where diamond reamers are heavily used:
Hydraulic machines
Machinery or tools
Automobile
Bearings
Transportation Equipment Field
Industries with quality carbide drills, cobalt drills, and aircraft tools
More customized diamond tools are available, contact us.
Error: Contact form not found.