Bench Grinder Wheel
The Bench grinder wheel is a high-quality abrasive tool. Choosing the perfect bench grinder wheel will depend on the quality and the usefulness of your preferred grinding wheel, especially their collaboration ability on the various work materials.
There are two most widely used forms of conventional bench grinder wheel. These are the aluminum oxide grinding wheel and the silicon carbide grinding wheel. An aluminum oxide grinding wheel is suitable for grinding alloy steel, carbon steel, annealed malleable iron, bronzes, wrought iron, and high-speed steel. While silicon carbide grinding wheel is best for grinding chilled iron, gray iron, aluminum, soft bronze, and brass.
Having sufficient knowledge of conventional aluminum oxide and silicon carbide grinding wheels is very vital in applying the appropriate tools and equipment. That is why, we believe that every potential customer should know its unique selling propositions, so they can purchase the suitable tool for their grinding works.
Aluminum Oxide Bench Grinder Wheel

Selling Propositions:
This tool can provide a uniform surface grinding effect and is suitable for a large cutting number of materials.
It is very much applicable on grinding various type of materials with high hardness and high strength.
This tool can definitely sharpen a lot faster even in the long run.
This bench grinder wheel is the best choice of tool for outer circle, inner circle, centerless, and plane tool grinder, and several special grinders.
This tool has good control for processing of gears, threads, and thin-walled parts.
Silicon Carbide Bench Grinder Wheel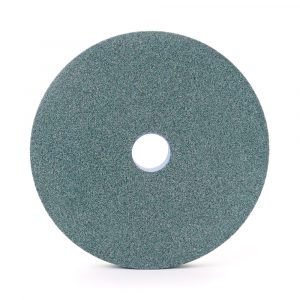 Selling Propositions:
Compared to an aluminum bench wheel grinder, this tool is highly appropriate for hard and tough materials like sharpening tungsten carbide tools.
It has been proved to be a lot sharper than aluminum oxide and has harder grain.
It has faster cut properties.
This tool can easily cut glass or plastic materials using light pressure.
Suitable for grinding non-ferrous metals, including alloys
Grinding Wheels
When it comes to the unique abrasive machining process, grinding wheels are the best option tools. These wheels are mainly used in tool shops, construction sites, automotive shops, medical, and other manufacturing industries.
To shape and refine workpieces and remove material, an abrasive grain is used as a grinding tool. These will apply to several grinding and machining operations.
A matrix of coarse abrasive particles is used by operators and manufacturers during production. The coarse particles are constantly hard-pressed and bonded to create a durable circular shape. A solid steel and aluminum discs material can also be used together with the particles on the surface.
It might be a challenging task in selecting the right wheel depending on the production. However, to achieve an excellent surface finish and the best result, you have to choose the best grinding wheel for your work application.
For this product content, we will be focusing on the conventional type of grinding wheel which includes aluminum oxide and silicon carbide wheels. If are looking forward to getting a conventional A-rated bench grinder wheel, then the product page is for you.
Conventional Aluminum Oxide Grinding Wheel for Bench Grinder
This type of conventional grinding wheel is mainly used for fine grinding, honing, dressing, or screw-grinding tools on various materials of high hardness and high strength like alloy steel, hardened steel, and high-speed steel.
Aside from that, the aluminum oxide bench grinding wheel is known for its high performance in grinding abrasive types like steel, carbon steel, wrought iron, annealed malleable iron, bronzes, high-speed steel, and similar metals.
Aluminum oxide conventional bench grinder wheel has corundum particles with a combination of materials such as,
Brown aluminum oxide (A)
White aluminum oxide (WA)
Pink aluminum oxide (PA)
Single crystal aluminum oxide (SA)
Microcrystal aluminum oxide (MA)
Chemical Composition and Structure
The chemical composition and structure of aluminum oxide play a big role in its properties and manufacturing process. Here is its composition.
Pure AI2O3 Grit with Defect Structure: This chemical property helps in providing exceptional grinding performance and heat sensitivity operations. It has this uncommon sharp free cutting action and low strength necessary for grinding operations.
Regular or Brown Aluminum Oxide (Doped with TiO2): This chemical property provides great toughness and lesser hardness compared to white Al2O3. This is necessary for the heavy-duty grinding to the semi-finishing process.
Pink Aluminum Oxide: This is composed of an Al2O3 alloyed with a combination of chromium oxide.
Monocrystalline Al2O3 Grits: This chemical composition provides a much better condition in balancing toughness and hardness. It contributes a lot in medium pressure heat-sensitive operations which are focused on ferrous materials.
Microcrystalline Al2O3 Grits of Enhanced Toughness: This chemical composition is very much suitable for stock removal grinding. This is ideal for creating highly tough grit and for high material removal grinding on ferrous material.
Basic Characteristics of Aluminum Oxide Bench Grinder Wheel
Below are some of the basic characteristics of an aluminum oxide bench grinder wheel:
This bench grinder wheel provides exceptional grinding effects and cutting outcomes. This tool is great for creating a uniform surface grinding effect.
This tool is the best choice for grinding materials with high hardness and high strength including high-carbon steel, high-speed steel, and hardened steel materials.
It has this sharping feature which saves a lot of production. It has the upper hand when it comes to mass production but it has its slow part when it comes to clogging and grinding heat.
This bench grinder wheel is very much ideal for several types of grinders especially for the inner circle, outer circle centerless, and plane tool grinder.
This tool is highly capable of processing various materials. Aside from its previous features, this bench grinder wheel is good for producing different parts such as gears, threads, or thin-walled.
Conventional Silicon Carbide Bench Grinder Wheels
When it comes to grinding and cutting abrasive tools like brittle and hard carbide, this conventional silicon carbide bench grinder wheel is the best tool to use. They are applied for stone grinding, gem, glass, superfine grinding, and cutting.
This abrasive tool can easily grind various materials like gray iron, brass, chilled iron, aluminum, and soft bronze, as well as rubber and other non-ferrous materials.
The most common material of silicon carbide includes:
Black silicon carbide (C)
Green silicon carbide (GC)
Chemical Composition and Structure
Compared to aluminum oxide, this bench grinder wheel is naturally harder but less tough. Plus, it does not have superiority when it comes to AI203 because of its chemical reactivity.
This type is categorized into two forms. It can be black or green silicon carbide.
Black silicon carbide (c): It is composed of not less than 95% SiC. It is much tougher compared to green silicon carbide. Plus, this type has its own sharp feature and is mostly applicable for grinding plastic, soft metals, and marble.
Green silicon carbide (GC): This type contains not less than 97% SiC. It's is harder and sharper than the black one and is ideal for grinding hard metals such as cemented carbide.
Basic Characteristics of Silicon Carbide Bench Grinder Wheel
Here are the basic characteristics of a silicon carbide bench grinder wheel:
Grinding quality: This bench grinder wheel is applicable for grinding non-ferrous metals (alloys inclusive) and sharpening tungsten carbide (TCT) tools.
Much efficient compared to aluminum oxide: This wheel type is much more efficient to aluminum oxide because of its harder and sharper grains.
Fast cutting feature: It has incredible capabilities when it comes to producing cut workpieces on a very fast pace.
Cutting ability under light pressure: This silicon carbide bench grinder wheel is commonly applied for finishing operations like stainless steel graining or industries under light cutting pressures.
Suitability: This bench grinder wheel is best for grinding or working on nonferrous metal due to its anti-loading property that prevents sticking on softer metal like aluminum.
Bonds for Conventional Aluminum Oxide and Silicon Carbide Grinding Wheels for Bench Grinder
Choosing the appropriate bond for the bench grinder wheel is important to make sure that cutting property is efficiently utilized. These bonds are used to hold abrasive grains and achieve that effective cutting.
Types of Bonds for Bench Grinder Wheel
There are various forms of bonded abrasives such as the centerless grinding wheels, surface grinding wheels, internal grinding wheels, cylindrical grinding wheels, mounted points, grinding wheels, sharpening stones, cutting discs, and grinding discs.
There are three bond types when it comes to conventional bench grinder wheels. Every type has its own unique features and applications. Plus, every type is affected by its operation process, speeds, and materials.
Vitrified Bonds
Vitrified bonds type is commonly used for making grinding wheels and is combined with selected clays. A combination of clay and grain will be combined into a molten glass form where it is heated at a high temperature. The molten glass will be formed in a short period under cooling conditions which is necessary for providing support to the grains during the grinding process. Here are some properties of the vitrified bond.
They are extremely strong, rigid, and porous.
It has a fast removal rate on stock material and grinds it.
It cannot be affected by oils, acid, water, or variations under different temperatures.
Vitrified bonds are somewhat brittle and there's a possibility of breaking the material down through grinding pressure.
Resinoid Bonds
Compared to other bond types, the resinoid bond is composed of organic substances and synthetic resin. This bond type is very much ideal for actions that need fast stock removal and much better surface finishes. In addition, these bonds function well with their higher speeds which are commonly used in producing foundries, billet shops, fabrication shops, and saw gumming and sharpening.
Rubber Bonds
This bond type has smooth grinding action with an excellent organic bond. Rubber bonds are the best type for achieving a high-quality finish, just like the roller and ball-bearing races. Aside from this, this bond type is very much utilized for holding burr and minimum burning, especially on recommended cut-oof wheels.
Getting the perfect grinding wheels is an important task for all potential buyers. Make sure to understand all of these abrasives to achieve the best outcome for your bench grinder wheel.
More other customized grinding wheels are available, contact us.
Error: Contact form not found.