[fusion_youtube id="https://youtu.be/4z-UeT0z8Rg" alignment="" width="" height="" autoplay="false" api_params="" hide_on_mobile="small-visibility,medium-visibility,large-visibility" class="" css_id=""][/fusion_youtube]
Vitrified CBN surface grinding wheel is used for grinding the end face, piston ring, gasket, filling piece, compressor part, semiconductor material, magnetic material, cutter, the stator of a vane pump, rotor, blade end, precision spring, etc.
Item name: Vitrified CBN surface grinding wheel
Abrasive:CBN
Model Number:6A2
Bond:Vitrified
Body:aluminum
Diameter(D):350/370/500/700/900/1200
Thickness(T):40/50/60
Center Hole(H):125/300
Grit:80#/150#/240#/320#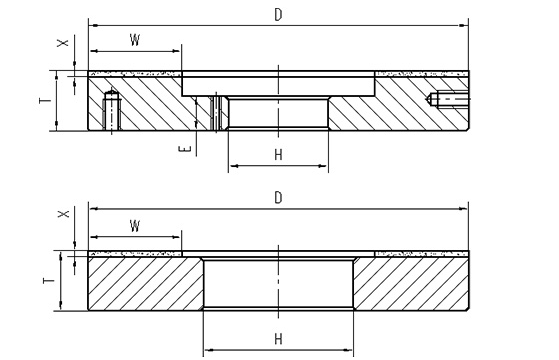 Features:
1. Large amount of grinding;
2. High wear resistance;
3. Good self-sharpening ability.
4. High grinding ratio;
5. Need sufficient supply of coolant in the grinding.
6. In large scale production, usually use the diamond rotary dresser for dressing
Error: Contact form not found.