Super Fiber Non-Woven Abrasive Convolute Wheel for Metal Deburring and Polishing
Super fiber non-woven abrasive convolute wheel is designed for both heavy and light precision deburring, blending, finishing, polishing, and cleaning.
Manufacturers make convolute wheels from bonding and wrapping web material, which is infused with resin bond and abrasive grains (around a center core). This helps with the sustainability and durability of heavy deburring work. Convolute wheels are typically used with coolants and lubricants for semi-automatic or automatic operations.
Using lubricant ( water-soluble or straight oil) is highly recommended because it will help reduce heat and enhance the surface finish and luster.
The convolute wheel is softer with a better application for fine finishing. Besides, it supports being run in a direction. The typical materials for super fiber non-woven abrasive convolute wheel include aluminum oxide silicon carbide, diamond, and ceramic alumina.

Important Features
Flexible wheel density, which is adjustable to suit different types of deburring.
Come with extra-durable web
Uniform satin and antique finishes are generated via premium medium grit aluminum oxide grain
Uniform grain coating and dispersion
High-efficiency and Ideal for blending, decorative finishing, and final finishing.
Detailed Descriptions
About Convolute Wheel
The convolute wheel is designed with resin bond and abrasive grains around a center core, wrapped and well-bonded with web material.
This wheel provides high resistance to wear and offers a glossy finish to metal parts. Convolute wheel's face helps with grinding, particularly in metal fabrication.
The convolute wheel features non-woven abrasives. These abrasives remove a small amount of material on metal components to offer a smooth finish. In addition, the use of a convolute wheel with non-woven abrasives ranges from heavy to light precision deburring, blending, finishing, polishing, and cleaning.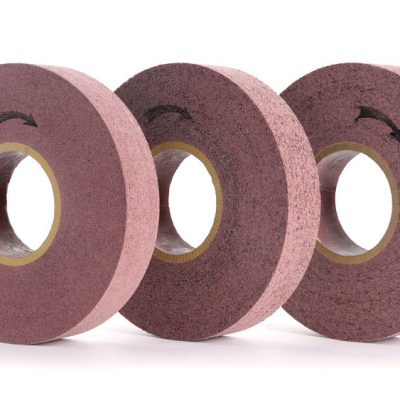 Specifications of Convolute Wheel Products
| | |
| --- | --- |
| Material | Silicon Carbide, Alumina-Zirconia, Aluminum Oxide, Ceramic, Ceramic Alumina |
| Grit | 40  60  80  120 150  180  240  320  400 600  800 1000  1200  1500 1800 2000 |
| Size | 100mm, 150mm, 200mm, 250mm, 300mm |
| Diameter | 100  125  150  200  250  300  350  400  mm or customized |
| Thickness | 6  10  12   25  50  75  100mm or customized |
| Inner Bore | 25.4mm, 32mm, 76.2mm, 127mm, 180mm, 203.2mm, 305mm, or customized |
Applications of  Convolute Wheel
Typical, the applications of the convolute wheel include:
Surface preparation ( Dent removal and blending of coated beltlines)
Deburring, blending, and polishing (Weld polishing, edge radiusing, and surface roughness reduction)
Cleaning and finishing metallic and non-metallic components (#4 finish, hairline finish, matt finish, or decorative finishes)
Features of Convolute Wheel
Waterproof wheel for wet or dry cases
Comes with dense web construction (Density 9) with long service life, perfect for heavy-duty deburring.
Comes with web construction (Density 8), ideal for light-duty deburring and clearing
Factors To Consider Before Choosing the Right Convolute Wheel Product
80% range: You should check if you're within the 80% range to know if you will need heavy deburring, go for a special finishing process for metal components or proceed to the next steps
Abrasive grain type: You should identify the abrasive grain type. This will help describe your requirement. Silicon carbide convolute wheel with a color-coded black core in the center is perfect for non-ferrous metal, and aluminum oxide convolute wheel with white core is ideal for ferrous metals.
Grit level: You should identify the best grit level suitable for your application. This will help sustain efficiency during the metalwork process. A fine-grit level is recommended for a middle-of-the-road way of blending and a very-fine grit level for a delicate finish. In addition, medium grit level is excellent for light deburring and when grit aggressiveness is needed.
Conformability and durability: You should take the density options into consideration. The density and flexibility should be varied depending on different materials such as glass, titanium, stainless steel, carbon steel, woods (soft and hard), and other non-ferrous metals. A density of 9 is hard, while a density of 5 is soft. You should ensure that conformability and durability are considered when deciding the density. Lower density offers conformability, and higher density provides durability
About Super Fiber Grinding Wheel
The durability of a super fiber grinding wheel is five to twelve times better than that of a regular fiber grinding wheel. With this, the wheel is more applicable when it comes to heavy-duty deburring, polishing, finish cleaning,  and surface treatment.
Super fiber grinding wheel features super high tensile impact resistance and bending resistance. It offers safety assurance when used in a good working environment.
There is a cutting disc ( designed with a thin 2 level glass fiber grid) or a grinding disc ( designed with 3 level glass fiber grid for reliability and safety). This super fiber grinding wheel comes in various sizes, and you can choose based on your preferred metalwork piece.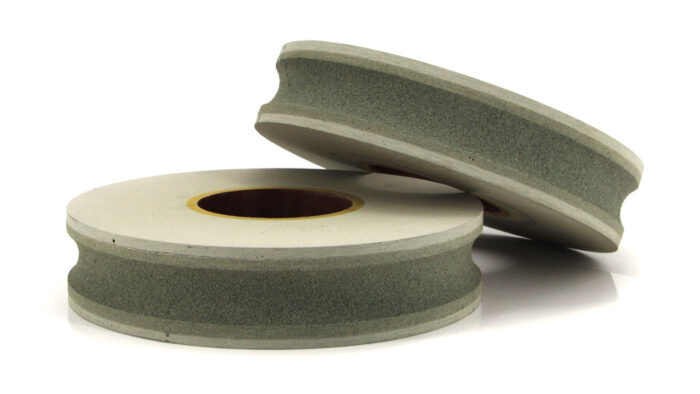 Applications of Super Fiber Grinding Wheel
Various cutting disc applications, including stainless steel, rebar, triangle steel, steel pipe, aluminum alloy, and PVC water pipe.
Grinding disc application, including removing rust and polishing welded surface
Finish cleaning
Surface treatment
Features of Super Fiber Grinding Wheel
Great cutting resistance
Less dust and low noise
Good self-sharpening and nice bright
Delivers the precise cut on high alloys steel, stainless steel, titanium, super alloys, and other difficult-to-grind materials.
Additional strength and tear resistance
Ideal for medium grit fiber disc angle grinder cleaning, detailing, and rust removal.
About Non-woven Abrasive Wheel
A non-woven abrasive wheel is designed with a nylon web, bonded and saturated with abrasive grains. This type of wheel is characteristically much pliable, flexible, and long-lasting because of its cushioned three-dimensional material.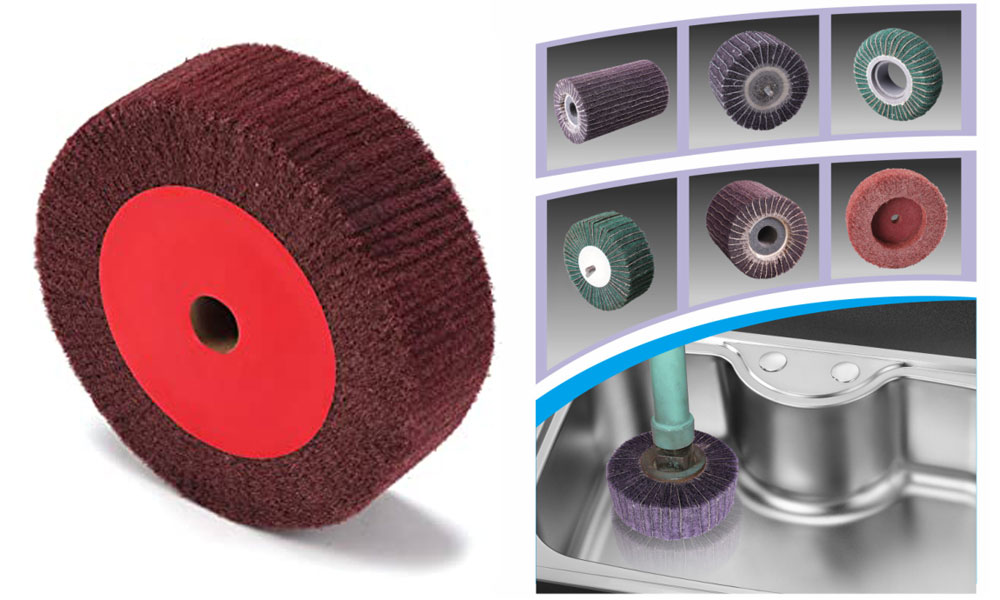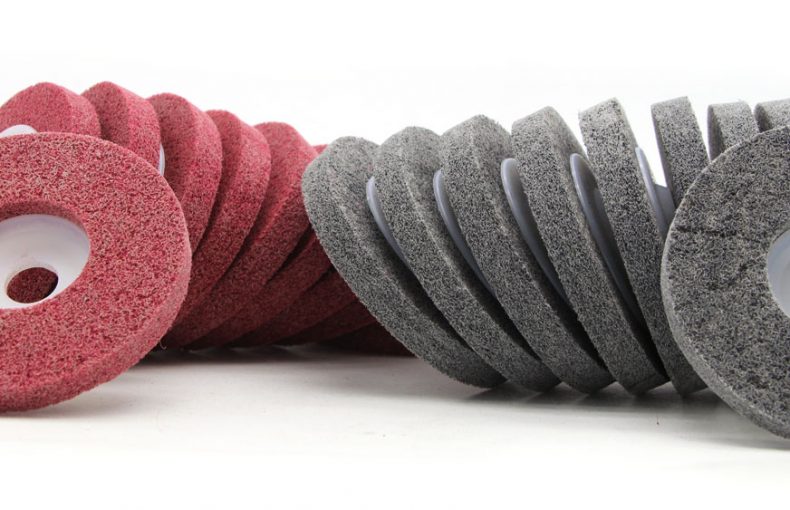 Applications of Non-woven Abrasive Wheel
A non-woven abrasive wheel is generally applied in the metalworking industries, used for different purposes, including the following:
Dulling laminates
Polishing
Decorative finishes
Cleaning
Scouring
Deburring
Defuzzing plywood
Blending
Removing raised wood fibers
Highlighting
Scrubbing
Imparting a satin finish on metal
Deflashing plastics
Moreso, the non-woven abrasive wheel is made for several surfaces, including:
Brass
Aluminum
Fiberglass
Tantalum
Stainless steel
Chromium
Wood, Plywood
Ceramics
Features of Non-woven Abrasive Wheel
Flexible and adaptive usage
More beneficial to metalworkers
Waterproof ( unusable when it's wet or dry)
Low maintenance
Easy to use and manipulate
Rust-resistant
Creates a uniform finish and conforms to irregular surfaces.
More customized specifications are available, contact us.
Error: Contact form not found.