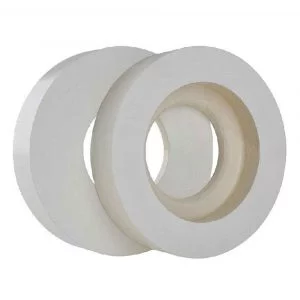 X5000/ X3000 polishing wheel is a polishing wheel type that is composed of high-strength rubber and high-quality cerium oxide. This polishing wheel is certainly produced in accordance with special ingenious technology which provides polishing effects and long-term effects that are far more quality made compared to other polishing wheels.

Detailed Description of X5000/ X3000 Polishing Wheel
Product Specification of X5000/ X3000 Polishing Wheel
X5000/ X3000 polishing wheels have a high polishing effect for working procedures on the glass processing machine. Common materials include high flexible macromolecule and cerium oxide. Here are some product specifications available in the market. Clients can request special customization in accordance with specific applications and requirements
D (mm)
W (mm)
T (mm)
H (mm) customized
Application
Wheel Types
150
30
50
12/22/50
X5000 / XD-01 Cerium oxide polishing wheel is used for the last position on the edging machine or straight-line edging machine for fine glass polishing and has excellent performance
Diamond grinding wheel, Resin bond grinding wheel, 10S polishing wheel, BK polishing wheel, BD Polishing wheel, X5000/X5000/ X3000 Cerium polishing wheel, spiral felt wheel, etc.
150
70
40
12/22/50
Features of X5000/ X3000 Polishing Wheel
This polishing wheel is a rubber-based material which is a good factor to its high elasticity and strength. Plus, the ceria powder component gives off a strong polishing effect. These two features make the whole wheel in good quality condition. With its wide range of advantages, you certainly would like to invest in this product. Here are some features of X5000/ X3000 Polishing Wheel which tells us how efficient, effective, and reliable it is for glass polishing works.
It has excellent elasticity and a polishing effect for a more brilliant glass edge.
It can achieve a glazing and transparent surface finish which has no visible scratches.
It has good sharpness, good stability, long service life, and is easy to polish.
It can be equipped on any domestic machine like the Bavelloni machine.
It has ruggedness, excellent strength, and a superior finish.
It has good permeability and can highlight the original color of the glass.
The polyurethane wheel is combined with polishing powder.
You can directly use it on a machine, without even using additional cerium oxide.
The glass surface is nicely done after fine polishing. It offers smooth and transparent surfaces without any traces.
Application of X5000/ X3000 Polishing Wheel
X5000/ X3000 polishing wheels are used as polishing wheels for cerium products which suites straight line edger and double line edger machines. This polishing wheel guarantees high-quality assistance on various materials for the polishing and grinding process. Here are some of its applications in some fields and industries which you can use as a guide.
Mainly applied on the window, door, table glass, auto glass, home appliance glass, micro-crystal glass, architectural glass, and many more.
It is applied for glass-bottom edge polishing which is popular in various industrial fields in glass processing and polishing.
In general, the X5000/ X3000 polishing wheel is used in creating smooth finishes in a work piece's surface like stainless steel, glass, marble, crystal, jade ware, precision instrument, medical instrument, special cutting parts, and cutting tools.
Applicable Machines for X5000/ X3000 Polishing Wheel
X5000/ X3000 polishing wheel is suitable for all kinds of straight edging machines, double straight-line edging machines, beelining and round edging machines, double round edging machines, multi-functional grinding machines, and bevelling machines. This polishing wheel is the best choice for glass grinding (CP Machine), single edger, and double edger machines. It is commonly installed on the end of the motor's position, suitable for various edging machines.
More Customized Polishing Wheels are available, contact us.
Error: Contact form not found.