[fusion_youtube id="https://youtu.be/LnobdJ6YkW8″ alignment="" width="" height="" autoplay="false" api_params="" hide_on_mobile="small-visibility,medium-visibility,large-visibility" class="" css_id=""][/fusion_youtube]
Sharpening stones, also known as whetstones are normally used to grind and sharpen the cutting edges of tools and implements. There are sharpening stones of different materials, sizes and shapes. We use aluminum oxide or silicon carbide as the main abrasive material.
These sharpening stones are available in numerous grades. They are usually graded by the grit size of the inherent particles. Stones with a fine grit are denser and they give a smoother finish to the sharpened surface. Conversely, coarser grit gives a rougher finish. The grading is often done by number and a higher number denotes a higher density stone that would give a finer finish.

At Forture Tools, we make sharpening stones from aluminum oxide or silicon carbide. They are used for sharpening scissors, scythes, knives, razors and tools such as chisels, hand scrapers and plane blades. They have a wide range of shapes and various grades.
These sharpening stones suit for processing hardened steel, alloy steel, precision measuring tools, agate stone and instrument parts with high toughness, or cutting tools to make sharp and repair workpieces.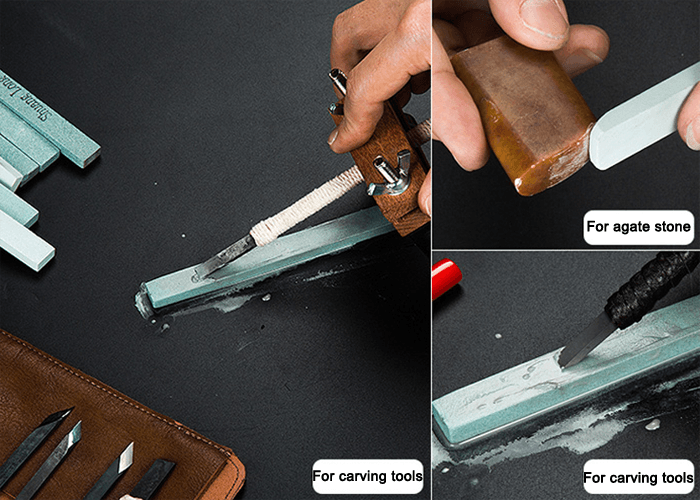 Aluminum oxide & Silicon carbide abrasive stick specifications

Shape
Length(mm)
Thickness/Diameter(mm)
Width(mm)
Grit
Square
100,150,200
6,12
6,12
80 #, 120 #, 150 #,
180 #, 240 #, 320 #,
400 #, 600 #, 800 #
Triangle
100,150,200
6,12
—-
80 #, 120 #, 150 #,
180 #, 240 #, 320 #,
400 #, 600 #, 800 #
Rectangle
100,150,200
6,12
6,12
80 #, 120 #, 150 #,
180 #, 240 #, 320 #,
400 #, 600 #, 800 #
Round
100,150,200
6,12
—-
80 #, 120 #, 150 #,
180 #, 240 #, 320 #,
400 #, 600 #, 800 #
Half-round
100,150,200
6,12
—-
80 #, 120 #, 150 #,
180 #, 240 #, 320 #,
400 #, 600 #, 800 #
How to use a sharpening stone

First, soak the sharpening stone
in water for about 15 minutes
Grinding with uniform force
in one direction, 10%-20% Angle is better.
Don't scrape off the slurry
after sharpening. The slurry will make the knife sharper.
After sharpening, clean the surface
of the oil stone with a soft brush and let it dry in a ventilated place.
 Types of sharpening stones

Single-Sided Sharpening Stones
They are made from Aluminum Oxide and Silicon Carbide material of the same granularity. It can be applied to hand grinding, cylinder grinding, machinery manufacturing, model making and equipment grinding. It also can be used for finishing diamonds.
Double-Sided Sharpening Stones
Made of the same or different materials in different granularity, the coarse side can be used for fettle snagging and the fine side in precision grinding. Double-sided sharpening stones can be made of aluminum oxide and silicon carbide. It can be widely used in the sharpening of knives, glass-wares and other materials.
Natural Sharpening Stones
Made from natural quartz rock these are the kind of abrasive tools which has both the fine, smooth texture and the ability to grind and polish. These sharpening stones can be used in the precision machining of knives, timepiece components, and other kinds of precision component honing.
Dressing Stones
Dressing Stones
Being made of White aluminum oxide, mostly used for dressing diamond grinding wheels.Standard length is 175mm/200mm,standard thickness is 1.0, 2.0, 2.5, 3.0, 3.5, 4.0, 4.5, 5.0, 5.5, 6.0mm,standard width is 50mm. Customized size is available.
Honing Stones
Honing Stones
These Aluminum Oxide and Silicon Carbide bonded (vitrified bond, resin bond and rubber bond) stones are used for honing Hydraulic and pneumatic cylinders, Cylinder Blocks and liners, Hydraulic equipment, Gear Nozzles, Pneumatic Tools, Gun barrels of field guns and battle tanks, Connecting rod ends, Gauges, Bushes and bores etc.
Grinding Sticks
Come in a variety of sizes and shapes. As bonded with different
abrasive materials, different grit and different hardness grade. The shape can be a triangle, square and round, to meet the client's requirement of deburring, sharpening and honing. Forturetools customized grinding sticks are specialized for users to have handy tools.
Need more customized Sharpening Stones, feel free to contact us.
Error: Contact form not found.