Description:
Diamond centerless Grinding wheel are mainly used for grinding tungsten carbide, ceramics, magnetic material, stainless steel bar, PCD and PCBN composities.
Features:
1, Good self-sharpening
2, Sharp cutting
3, High efficiency,
4, Good roughness
5, Less heat generation
6, Long service life
About Centerless grinding method:
Centerless grinding is a type of grinding method. There are two grinding wheels, a rubber control wheel as a guide wheel and a Diamond centerless Grinding wheel or other same function wheels. The guide wheel drives the cylindrical workpiece to rotate on the horn, and the grinding wheel grinds the workpiece. centerless grinding belongs to the Cylindrical grinding method.
About centerless grinding machine:
The centerless grinding machine is a kind of grinding machine which does not need to use the axial positioning of the workpiece to grind. It is mainly composed of three mechanisms: grinding wheel, adjusting wheel and workpiece support. The grinding wheel actually works as grinding, adjusting wheel Control the rotation of the workpiece and control the feed rate of the workpiece.
Specification:
Centerless grinding wheel Shape
Diameter(D)_
Thickness(T)
Hole(H)
X(Rim Width)
140
50
31.75
3
160
50,100
31.75
3.5
200
50
75
5,10
250
100
75
300
100
127
350
125
127
400
150
203
450
150
228.6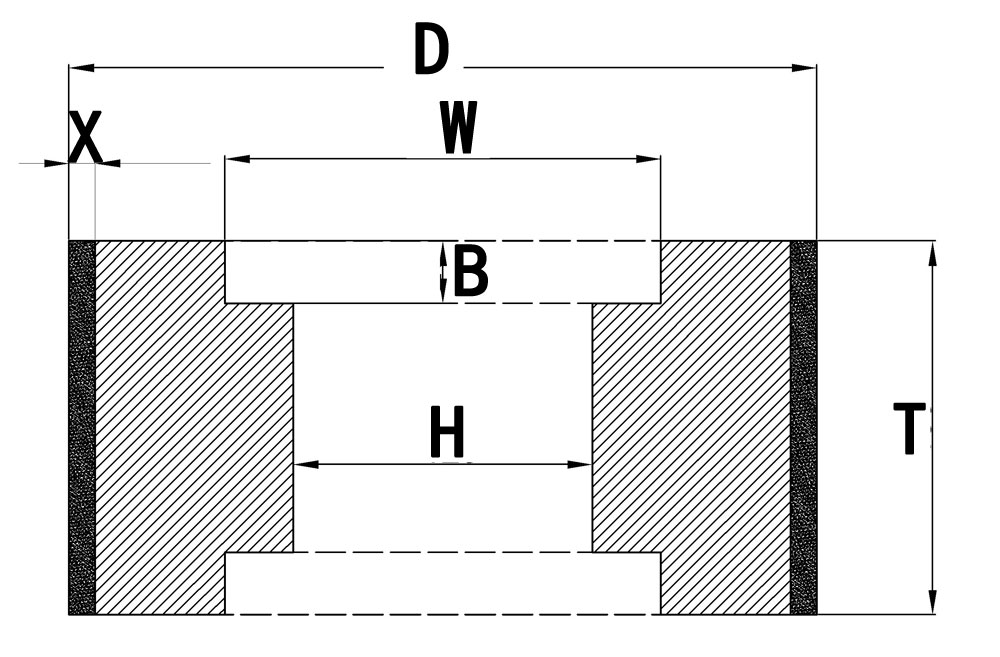 Error: Contact form not found.